As Escape owners know, our trailers are built for life. Every new Escape trailer includes our Manufacturer's Limited Two-Year Warranty. This covers defects in materials and workmanship such as our fiberglass shell and cabinetry, while installed components (Air Conditioning, Cooktop/Stove, Refrigerator etc.) are covered by the individual manufacturer's warranties.
To provide additional years of coverage on these items, we offer optional Mechanical Breakdown Coverage. We know unexpected breakdowns happen, and our extended warranty protection will cover you in the event of unforeseen costly repairs and will help get you back on your road of adventure. A little peace of mind will go a long way.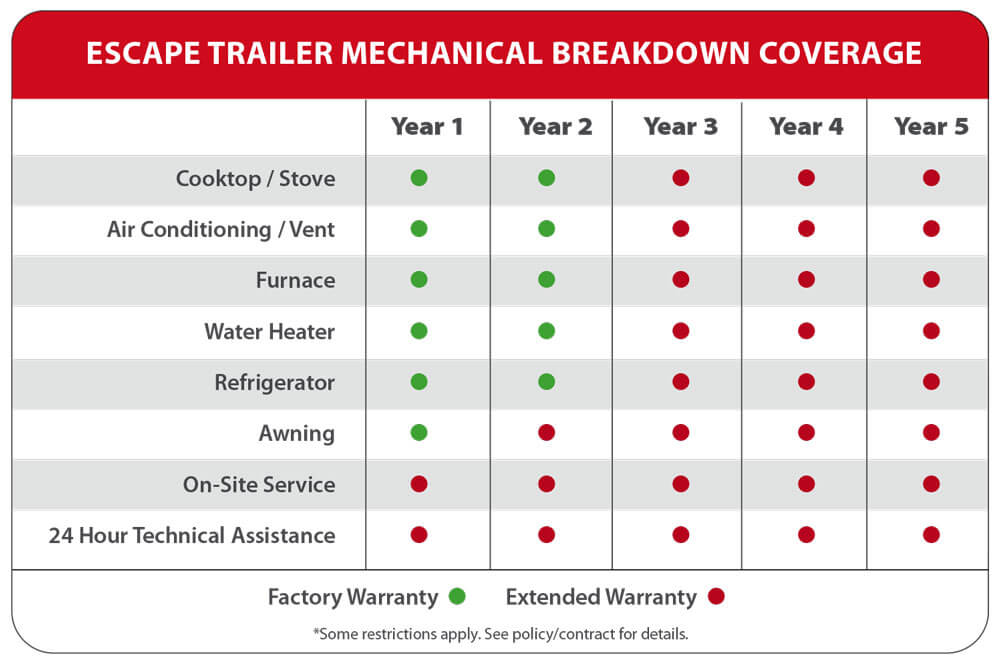 Protection Wherever You Are
Our extended warranty covers customers in the US and Canada and covers your Escape trailer anywhere in the continental United States and throughout Canada.
Direct Response
On all authorized services, repair costs are paid directly to the repair facility or reimbursed to you if you have out-of-pocket expenses.
Transferable Coverage
In the event you choose to sell your trailer and you are the original owner, you can apply to transfer the coverage to the next owner for the remainder of the Policy/Contract term.
Deductible
Plans have a choice of $50 or $100 deductible per repair visit, plus applicable taxes, on all covered repairs. In the event the same component fails again, no deductible will be charged for its repair or replacement.
Emergency Road Service
Our extended warranty also includes Emergency Road Service for your trailer. Services covered include: Towing, Emergency Supplies Delivery Service, Locksmith Service, Battery Service, and Extraction Services.
On-Site Service (Optional)
Covers travel time and mileage costs for service personnel to reach your trailer for repairs.
Value
A typical 5-year extended warranty is less than $4,500 CAD depending on factors such as coverage and value of the unit.
Learn More
To speak with one of our customer care representatives, call 1.855.703.1650 or email [email protected]. Or conveniently arrange a phone call when you are available by clicking here. For more information please download the brochure linked below.