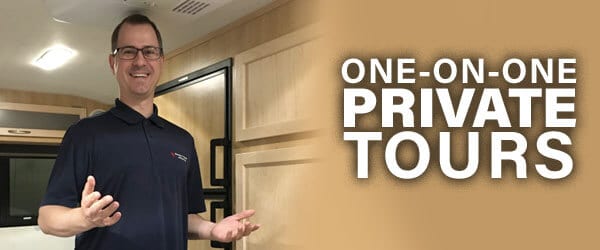 Escape One-on-One Private Tours
Not sure what Escape model suits your needs best? Need to speak to someone who knows the benefits of each trailer and could help with that process?
We know it's a difficult time to make an appointment to view an Escape in person, so we are offering a virtual one-on-one private tour with one of our sales specialists, Samuel.
All you need is Zoom, Signal, Facebook Messenger, or WhatsApp! Samuel will walk you through our showroom trailer or an available inventory model of your choice.
Call 1.855.703.1650 for more information or click below to schedule a tour.
Escape US Delivery

Over the past few months since travel restrictions were put in place, we have been working with our transport partners to improve the transportation process and costs.
We have now agreed NEW pricing and maximum rates within specific zones.
Now, you can stay safe in the comfort of your home and have an Escape delivered to a location close to you.
Customers are utilizing the delivery service and the reviews in the Escape Forum and on the owner run Facebook group are overwhelmingly positive. For more info on trailer deliveries click below.
We are working on a similar plan for Canadians.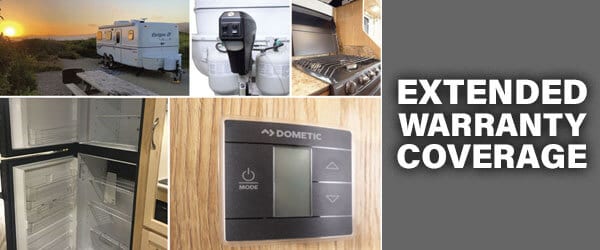 Extended Warranty

As Escape owners know, our trailers are built for life. Every new Escape trailer includes our Manufacturer's Limited Two-Year Warranty. This covers defects in materials and workmanship such as our fiberglass shell and cabinetry, while installed components (Air Conditioning, Cooktop/Stove, Refrigerator etc.) are covered by the individual manufacturer's warranties.
To provide additional years of coverage on these items, we offer optional Mechanical Breakdown Coverage. We know unexpected breakdowns happen, and our extended warranty protection will cover you in the event of unforeseen costly repairs and will help get you back on your road of adventure. A little peace of mind will go a long way.
This program is available to all customers within 23 months of their purchase e.g., as of May 1 2020, all customers who received their trailer after June 1 2019 can still purchase extended warranty.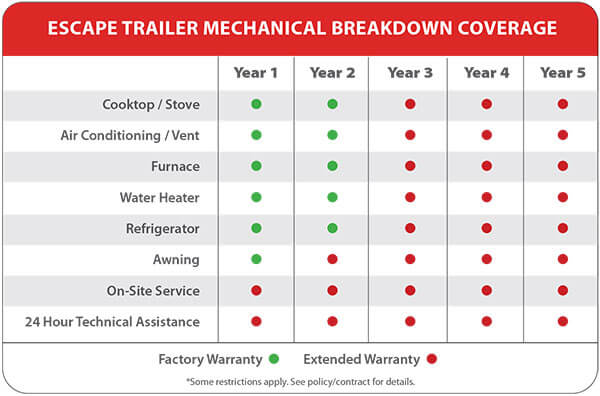 There is more information and a detailed brochure available to download by clicking below.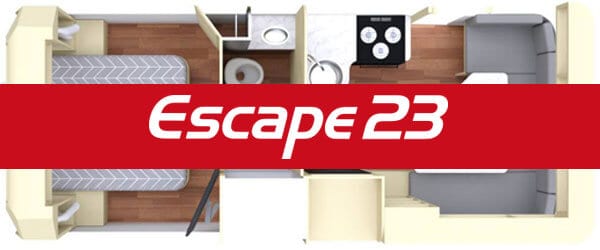 Introducing the Escape 23

Escape is pleased to introduce the conceptual floorplans for our newest trailer, the Escape 23. Initially we have 6 floorplan layouts and we would love your feedback on them.
The floorplans presented for feedback include 3 plans with a traditional front entry and rear dinette. Of the 3 front entry plans, F1 has a walk-around queen bed, F2 a split twin and F3 a folding Murphy bed. The 3 other plans are all rear entry designs with separate living/kitchen area in the rear with the bedroom area in the front. The F4 includes a walk-around queen bed, F5 a sideways queen, and F6 a split twin. All plans presented included a dry bath with separate shower.
To gather your feedback and suggestions we have created the Escape Product Portal. This is where our design team will gather constructive feedback to move this trailer forward to the next stage.
If you would like to offer some feedback or get a better view of the plan, and see a short video explaining how the new product portal works, please follow the link for more details.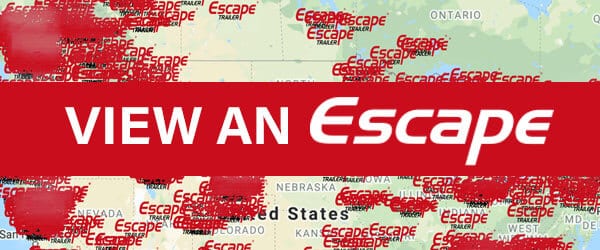 View an Escape

We are direct to consumer and we do not sell through dealerships. We have over 1500 customer ambassadors who love to show off their Escape trailer and give objective reviews!
You simply go to the page linked below, explore the map to see what trailers are near you. Fill out the form and one of our sales associates will help you connect with the owner. It's a great way to see a trailer in person and ask questions to someone who has experienced the Escape lifestyle.
Our customers are following COVID protocols for their area and will work with you to find a date or a method that keeps everyone safe.  As an alternative we have the one on one video tours.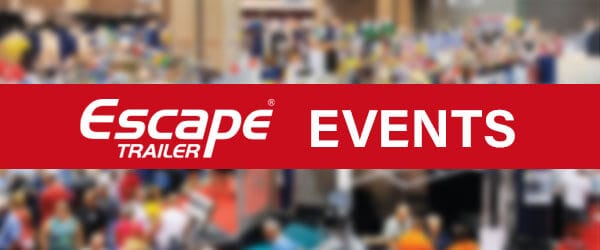 Escape Events

2020 Canadian Escape Trailer Rally – Cancelled for the present
The 2020 Canadian Escape Trailer Rally planned for May 21 – 24th at the Nk'Mip Campground in Osoyoos BC has been postponed. Watch for an announcement on a new date once we learn more about what travel restrictions will be in place over the next months.
To receive our newsletter by e-mail, please click the "Subscribe" button in the footer below.