Notable 2021 Options to Choose From
Even more choices to personalize your Escape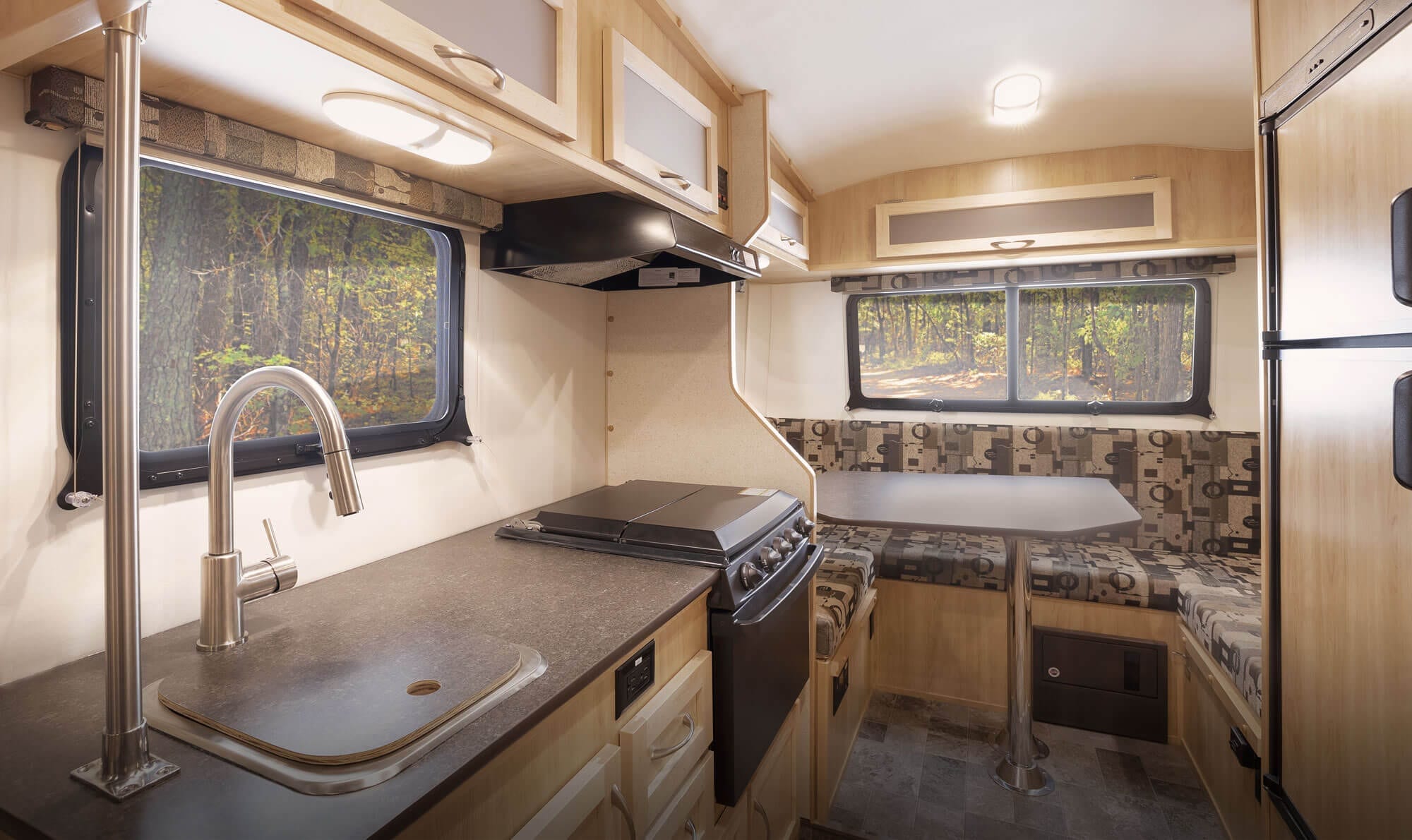 Personalization is a great benefit that comes with choosing Escape Trailer. With literally thousands of ways to personalize your trailer, we're excited to introduce a few more options for 2021 to choose from.
Lagun table mount system
The Lagun Table Mount system is a common customer-requested option we've decided to add as an alternative to other floor mount systems.
The Lagun mount is constructed of heavy anodized aluminum, swivels 360 degrees from two different locations, and easily locks down by turning the hand locks. The Lagun also adjusts up and down on its mounting plate so you can position it right where you want it. The Lagun quickly and easily swings out of the way to create easy access into the dinette, provides more floor space, and better access to storage. The Lagun easily locks in place by turning the hand locks, and then it's ready for use or travel.
This option is currently only available for U-shaped dinettes.
Thanks to Jon Vermilye for allowing us to borrow the photos of his custom install within his own Escape. John's images show his custom Teak tabletop. Escape will install the standard tabletop when the Lagun option is selected. To see the Lagun Table Mount in action, click here
Norcold DC558 compressor fridge 
At the moment, the Norcold DC558 Compressor Fridge is currently available for the Escape 19. This 5.5 cu.ft. fridge is an option to replace the 5 cu.ft. three-way fridge that comes standard with the E19. It's a straight replacement and doesn't require any additional cabinetry work to make it fit. The fridge's simplified system doesn't require an exterior vent and allows for a larger capacity in the same footprint. If you're interested in replacing the 6 cu.ft. fridge in our larger trailers with this fridge, please consult your configuration specialist for the additional cost.
Benefits of this fridge include a more efficient, 12/24-Volt operation, a Danfoss BD Micro-Compressor, low-voltage battery protection, high-ambient temperature shut down, effective at high altitudes, and features adjustable and removable door bins.
Unfortunately, this fridge is electric only and does not work on propane. We are currently working to source a similar fridge for a direct swap on our models with a 6 cu.ft. fridge.
Watch our video of the new compressor fridge here
Suburban Elite Series range
The Suburban Elite Series 17" flush mount range three-burner cooktop combo by Airxcel not only looks great, but the glass cover over the cooktop mounts flush the countertop providing a lot more usable countertop space in the kitchen when the oven is not in use.
Features include a 9,000 BTU/h front burner, 6,500 BTU/h rear burners, match-free piezo ignition, brushed nickel knobs, brushed stainless oven handle, built-in flush mount glass cover, high-efficiency and well insulated, and a front oven window to keep an eye on whatever you're cooking. This unit comes with a two-year manufacturer's warranty.
Watch our video showing the new flush mount oven here
SeeLevel II tank monitor 
The SeeLevel II Tank Monitor system has been installed in over 100,000 RVs and provides a more accurate gauge of tank levels. The sensors used on the system are mounted externally on the tanks and will not be affected by sewage build up increasing its reliability. The monitor displays the tank level in percent full, on a large three-digit LED display. The system monitors your fresh, gray, and black tank levels as well as battery voltage.
Watch the manufacturers video which includes more detailed information on the system here 
Coleman-Mach 10 NDQ AC unit
The Coleman-Mach 10 NDQ (Non-Ducted Quiet) is an upgradable option to the standard AC unit. The Coleman-Mach 10 NDQ is made by Airxcel who has been making RV air conditioners for over 50 years and has produced more than 6 million units. At only 10 inches tall, the Mach 10 NDQ delivers superior cooling performance, fits standard 14"x14" vent openings, provides 13,500 BTU output, substantially quieter operation, and includes a digital thermostat with Bluetooth control through a smartphone app.
The Coleman Mach 10 NDQ keeps noise levels down inside your trailer while giving a superior cooling performance.
Have questions about our new options or not sure which Escape model is best for you?  Contact one of our Escape Education Specialists for a virtual one-on-one tour.
To receive our newsletter by e-mail, please click the "Subscribe" button in the footer below.