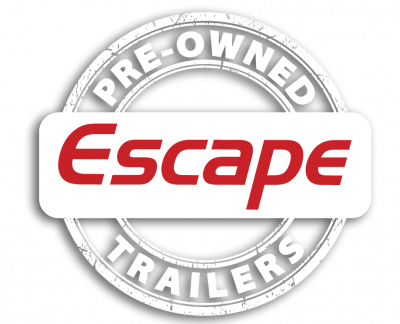 PRE-OWNED ESCAPE TRAILERS
FOR SALE BY OWNER
Escape Pre-Owned Trailers
The following trailers are available for sale
by the trailer owners.
The trailer owner's contact details are included as the final image of the photo gallery if the trailer is still available.
Please do not contact Escape directly about the status of the trailers.
If the listing below does not say SOLD or PENDING, the trailer is still available. 
Subscribe and get notified when your chosen model(s) launch on our website!
AVAILABLE PRE-OWNED TRAILERS
This 2020 Escape 19 is in mint condition. Only used twice for a total of four nights in 2020 and not at all since. Plumbing has not been used and unit is currently winterized. Original build was $42,800 and shipping to Whitehorse $6,500. Can provide build sheet and copy of shipping invoice.
Trailer location: Whitehorse, Yukon
Escape 5.0 TA (2015) for sale. Clean, meticulously maintained, mechanically sound and in good working order. Multiple additions/upgrades. Located in Sacramento, California. Asking $35,000 USD.
See Build Sheet for specifications.
Upgrades not listed on the Build Sheet:
New Goodyear Endurance Tires & Spare (11/2021)
"TireMinder" Tire Pressure Monitoring System
Body Lift Kit
Mor/Ryde Wet Bolt Kit
Stowaway Cargo Carrier (16 cu ft)
SoftStartRV for Air Conditioner
Standard Queen Mattress & Foam Pad
Omnipure Water Filtration System
Lagun Adjustable Table
24" Samsung TV
Sony DVD player
Black & Decker Microwave
X-Shaped Wheel Chocks (2)
Lynx Levelers (10) + other pads/chocks
Additional Sewer Tube
We are also selling our 2011 F250 XLT Diesel 4X4 Supercab with PullRite Superglide Hitch separately.
Trailer location: Fair Oaks, California
2005 Custom Escape 17B Trailer for Sale – Sleeps 3
It is with bittersweet feelings that we are selling our lovingly customized Escape trailer "Sarandipity" due to a move overseas. We have enjoyed owning it since 2015 and have spent many hours restoring and renovating it. You will be hard pressed to find another fiberglass egg as unique as this one!
Everything works! A/C runs very cold and has a remote (we've used it in the hottest of AZ summers). Fridge keeps things cold and the freezer keeps everything frozen. Hot water heaters works great and so does the furnace. Stove works as it should and is in like-new condition because we usually cooked outside. Battery is new and holds a charge well. Fiberglass is all in good, solid shape, no cracks. Water pump works and no leaks anywhere. Trailer brakes work perfectly. Tows beautifully behind our Toyota Highlander.
Located in Arizona and need to complete the sale and pick up by July 1st. If prior payment is made, may be willing to deliver to western states the first week of July as we are traveling to Seattle. Reach out for more pictures and information.
Trailer location: Tucson, Arizona
21 ft fifth wheel trailer
Queen Bed (Memory Foam Mattress) in front
Dining area converts to double bed
6.7 cubic foot, 2 door, 3 way frig
New 3 burner stove with oven; ss cooktop
Wet bath with shower
Stereo sound system
Dual Pane thermal windows
150W Solar Panel with Charger
Dual 6v batteries 
AC; 11,000 BTU
12,000 BTU Furnace
Gooseneck hitch adapter – removable to convert to standard 5th wheel hitch
Arvika (arvika.ca) two bike rack mounted on 5th wheel pin box
12' Awning
Exterior Quick release propane connection; portable propane grill
Spray Foam insulation under trailer
2018 Escape 21C, single owner, light usage, well maintained.
We are selling our Escape due to a new house where we cannot store on site. We purchased new in 2018 and have used 1-2 weeks per year. Trailer has a custom interior with light counters and blue fabric. Everything is in good working order and the trailer is set up for cold camping with extra insulation and boondocking with solar and dual 6v batteries. Includes Fastway E2 weight distribution hitch. This trailer has no AC.
See build sheet for full specifications.
Upgrades post delivery include a Springfield table pedestal, Hypervent under the mattress, bathroom floor grid, and Fort Knox hitch lock. Stored covered, and includes a classic accessories cover.
Trailer location: Seattle, Washington