Essentials for Off-Grid Camping in Your RV​
RVing is more popular than ever. With more and more campers on the road, it becomes increasingly difficult to find a full-service campsite. Thus, many campers are going off the grid to experience the peace and freedom only boondocking can offer. Do you have a trailer set up for full-service campsites, but want to experience off-grid camping? Read on and learn how you can camp without limits.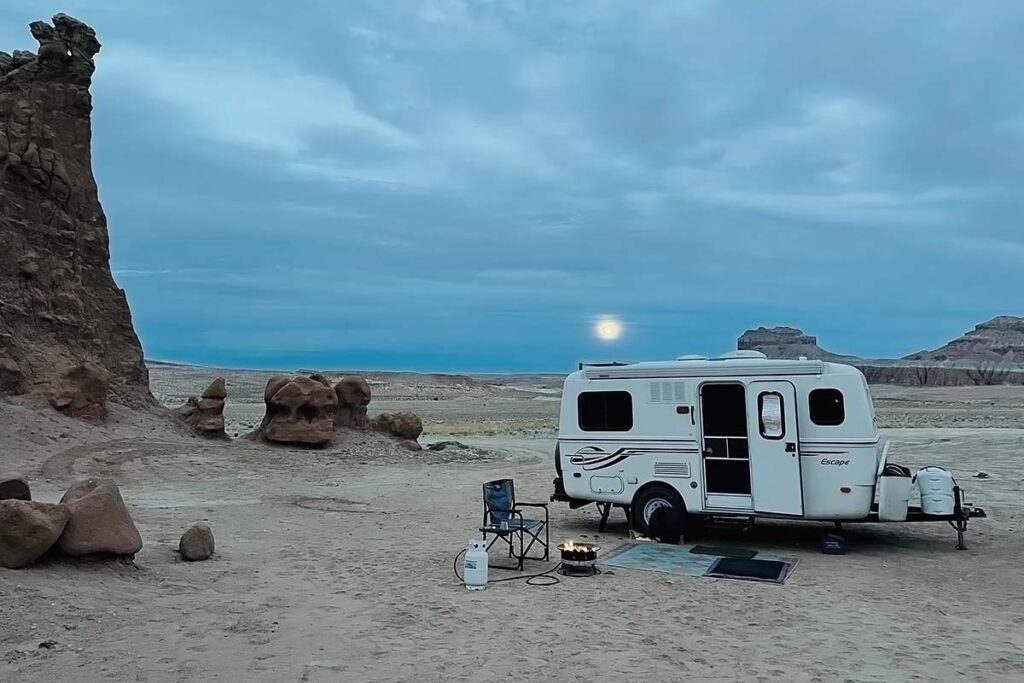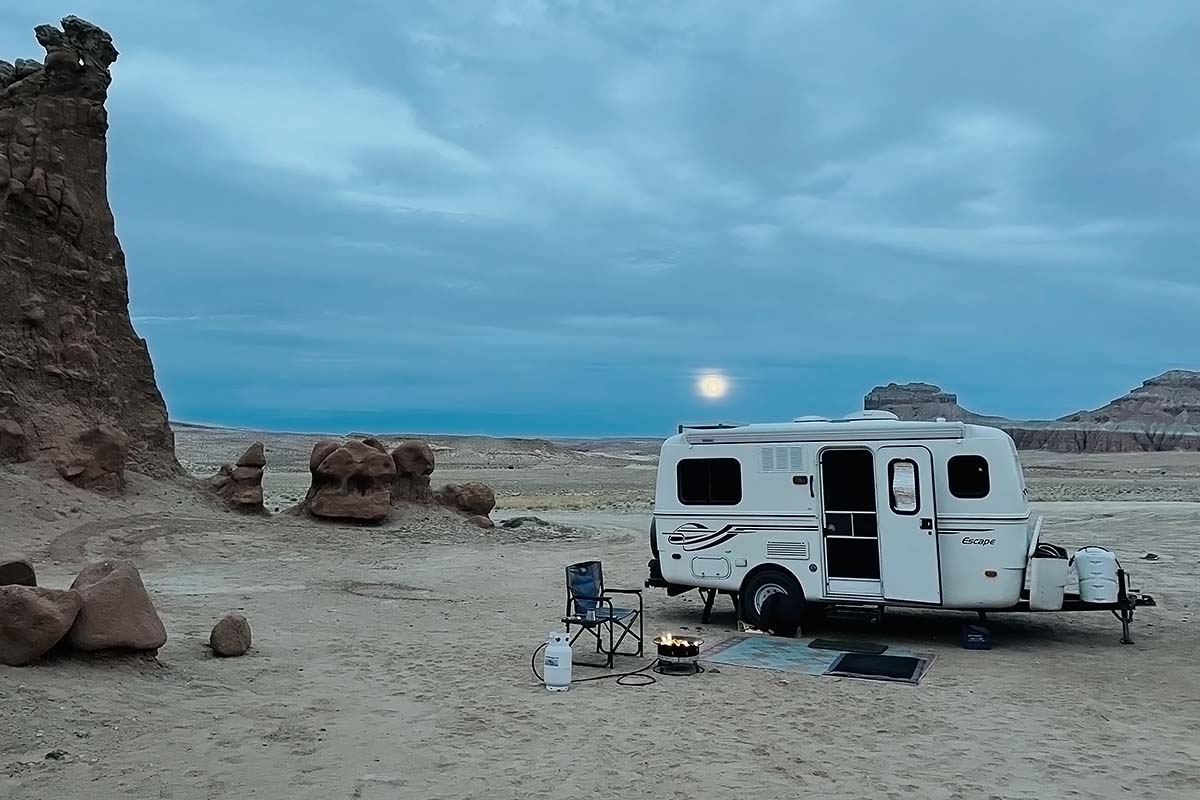 What is off-grid camping?
Off-grid camping (also called boondocking, overlanding, free camping, or wilderness camping) has become increasingly popular in recent years. To put it simply, boondocking is camping without hookups (electricity, water, sewer, etc.), and typically refers to non-traditional campsites. This means that you will need to bring essentials such as water and electric power with you to camp for a reasonable amount of time, and you will need to plan ahead for waste disposal. Camping without hookups on a traditional campground is typically called dry camping or dry docking rather than off-grid or boondocking. 
Off-grid camping is completely different from full-service camping, or camping at a traditional campsite, but is much more rewarding. The feeling of setting up exactly where you want and living off the land (and sun) is a freeing experience that every camper should try at least once. Further, it is an excellent way to get away from it all and really camp. 
How do I find a site to camp Off-Grid? 
There are plenty of resources to help you find the ideal off-grid campsite in the location you want. Some Escaper favorites include:

When selecting an off-grid site, try to gather as many details as possible about the conditions you'll face before heading out. You will want to know if there's a water source nearby or on-site, what the road conditions (or terrain conditions) are like, and if there's cell service.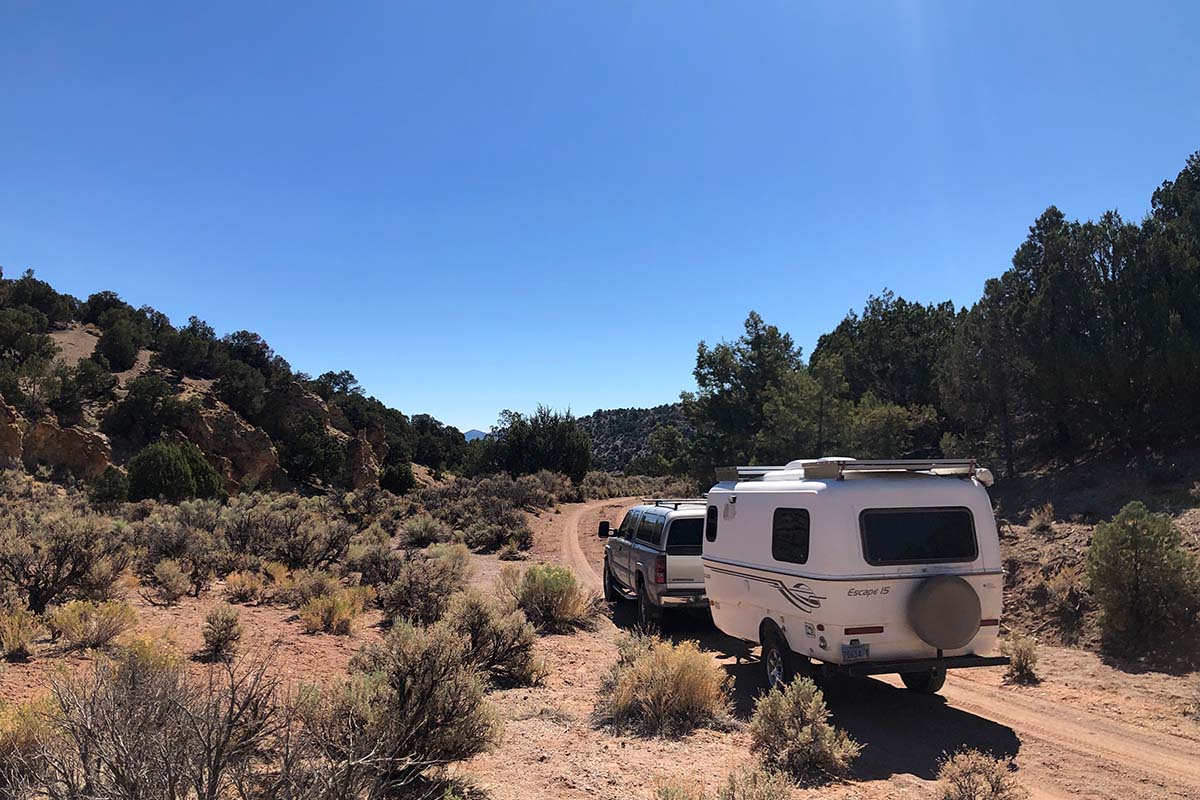 What is needed for a boondocking backroad trip? 
Planning for an off-grid camping trip involves close attention to the essentials. Everyone's definition of 'essential' varies, but we consider them to be those that keep you warm, fed, and most importantly, alive. We'll cover the essentials in the next few segments.
What is the right amount of water?
Water, the foundation for all life, is the most important resource to bring on an off-grid trip. Because you won't be hooked up to service, you will need to fill your fresh tank before you arrive at your off-grid oasis. Additionally, a 12V water pump (which comes in most RVs) is required for water access throughout the RV (shower, sink, toilet, etc.).
Aside from drinking water, you will need water for your shower (both inside and outside your RV), sink, and toilet (if you don't have a composting toilet). Since it is so widely used, water is the key resource that dictates how long you can camp off-grid. Through its use in showers, toilets, and drinking, it can be easy to misjudge how much you need and use. 
As such, it is a good idea to separate your drinking water from that used for your shower, sink, and toilet. An easy way to accomplish this is to drink primarily from water bottles or an auxiliary water source.
Using a separate water source for your drinking water has a few benefits. First, by having a dedicated amount of drinking water, you ensure that you don't accidentally run out after a long shower. Second, by using water bottles or water storage, you can keep the water cool in your fridge. But what should you use?
Consider going green by ditching disposable water bottles. There are many cheap and durable reusable water bottles that are ideal for filling in advance of your camping trip. 
Additionally, you could fill a water reservoir and keep it inside the trailer for use. The average person should drink 3-4 liters of water a day, so ensure that you have enough water for each day of camping (and bring a little extra just in case). A two-person trip for 3 days would need at least 24 liters of drinking water, for example. 
Further, you can collect drinking water from your off-grid surroundings! If you have a stream or river nearby you can get more water and easily filter it using a filter, like the Berkey. Berkey filters are among the most popular water filters on the market and can remove well over 200+ contaminants. 

Harness the power of the sun, go solar!
You will need power when camping off-grid. Primarily, you will run the lights, fans, water pump, and 12V outlets in your trailer from your batteries. But how exactly do you recharge the power you use? Watch the following video for more: RV Batteries and Solar: What's the Difference? – Escape Trailer
If you don't have a solar array in your trailer, you can still camp off-grid. Portable solar panels that can be hooked up directly to your batteries are abundant and are a great option to retrofit an older trailer. 
Consider a trailer with LED lighting throughout. These lights are extremely efficient and thus you won't need to monitor light usage as closely as you will with other bulbs.
In the case of appliances such as the heater, fridge, and cooktop, these can/will run off of propane.
Propane will make your trip pain-free. 
Good weather is never guaranteed, so it is always good to have the essential aspects of your trailer run off of propane. Most trailers have fridges, heaters, and cooktops that run off of propane and thus can be used in torrential, multi-day rain. But what about your fridge?
3-way fridges can run from one of three power sources: DC (battery power), AC (shore power), and Propane. As you can see 3-way fridges boast great flexibility to suit different camping styles. Therefore, it would be a good idea to purchase an RV with a 3-way fridge, as they typically use a low amount of propane. 
Purchase a trailer off-grid ready. 
After you've camped off-grid a few times, you may be converted to a hard-core boondocker with newfound off-grid ambitions. If this is the case, consider a trailer that can be customized to suit your backcountry camping adventures. Escape Trailer is a one-piece fiberglass trailer manufacturer that Builds For You! We offer more customization and personalization than any other manufacturer. Interested in learning more about Escape? Watch the following video for more information. 
To receive our newsletter by e-mail, please click the "Subscribe" button in the footer below.