EV Towing: Can the F150 Lightning Tow an Escape Travel Trailer?
One critical factor many RVers neglect is the ever-changing price of fuel. This unreliability can make budgeting increasingly difficult. This has lead many to wonder, can I use the power of the grid to go off-grid? We endeavour to answer this question in an real-life road test. The F150 Lightning is among the hottest new EVs, and for good reason. If you're wondering if the Ford F150 Lightning has the power to tow an Escape travel trailer,  and how long, read on: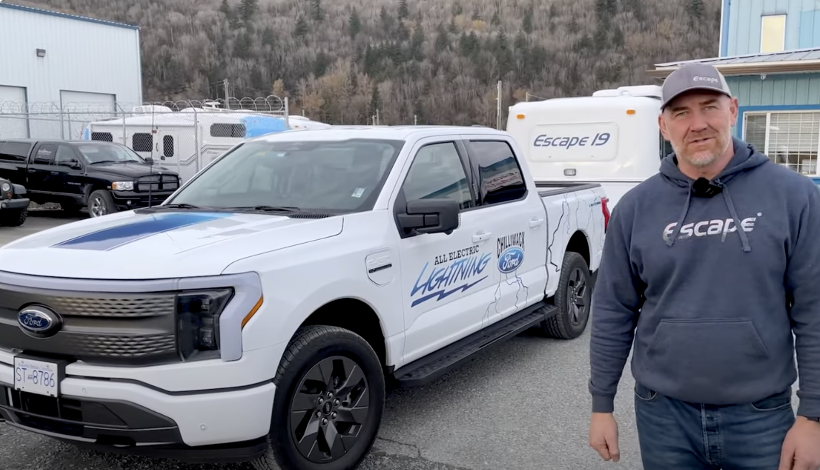 The Ford F150 Lightning Towing Specs
The F150 Lightning offers RVers an exceptionally comfortable and smooth towing experience. However, like all tow vehicles, it does have some key specs to keep in mind before heading out on the road. We included these in our assessment as follows:
● The Lightning XLT has a towing capacity of 5,000 pounds for standard towing and 7,700 pounds for the extended range.
● The Lightning Platinum has a maximum tow capacity of 10,000 pounds.
● When not towing, the F150 Lightning can go the distance. The fully-charged range of the F150 Lightning XLT is 230 miles (370 kilometres) as standard. If your travels take you further, the Extended Range battery will get you there with and 320 miles (515 kilometres) of range. 
Charging Specs
When traveling, it's vital to know how far you can go on a single charge and how long it will take to charge your EV. The Lightning charging rate is:
● 3 miles (4.8km) per hour with a 120-volt outlet
● 13 miles (21km) per hour with a 240-volt outlet
● 30 miles (48.3km) per hour with a Ford Charge Station Pro
● 324 miles (421.4km) per hour with a DC Fast Charger
This means going from 15% to 100% charge will take about 10 hours for about 150 kilometers (standard towing range with the XLT).
Our Towing Test
To determine if the F150 Lighting is a good towing vehicle, we hooked up the Escape 19 and hit the road. Our goal was to demonstrate this EV's tow range. The Escape 19 is a lightweight, one-piece fiberglass tandem axle trailer. In this test, we went 28 kilometers (about 17.4 miles) with a travel trailer weighing in at 3,600 pounds through Chilliwack, British Columbia. This included suburban roads as well as highway miles on an overall flat route.
The Results of the Lightning F150 Tow Test
Once we hooked up the Escape 19, the range decreased from 303 kilometers (188 miles) to 178 kilometers (110.6 miles). We set out on our trip.
On the road, the Lightning F150 pulls extremely well. It's effortless and smooth as we accelerate and decelerate.
As an electric vehicle, the Lightning is extremely quiet and acceleration is smooth and fast. There is no jerking or bucking from gear changing.
After our 28-kilometer trip, we retained 147 kilometers (91.3 miles) of tow range. The difference between the projected and actual tow range was about 3 kilometers (1.9 miles) less than estimated.
The Lightning's onboard display provided some nice input into the vehicle's power consumption.  On average, the vehicle used 57kWh per 100 kilometers on the way to our campsite. This decreased slightly to 54kWh per 100 kilometers as we headed back to our facility.
Other Highlights of the Lightning F150
The Lightning F150 is a beautiful vehicle loaded with perks such as the extra storage compartment under the hood where the engine would typically be. Other features include a large, clear display screen in the dash.
Conclusion
Is the Lightning F150 a good tow vehicle? For most RVers, not necessarily. Overall, the Lightning F150 is a stunning tow vehicle with a superior experience when it comes to a seamless feel in acceleration. All with an extremely quiet experience. However, the range and recharge time are quite limiting for traveling as an RVer. This results in a tow vehicle that is not the most practical or efficient when hitting the road over long distances.
To receive our newsletter by e-mail, please click the "Subscribe" button in the footer below.