New vs Used Escape Fiberglass Trailer: What to Consider
If you are interested in living the Escapee lifestyle, you will need to decide if you want to buy a new or used RV. Comparing the pros and cons of each can simplify the decision-making process. So, don't wait. Put your plans in gear and get the best fiberglass travel trailer for your needs.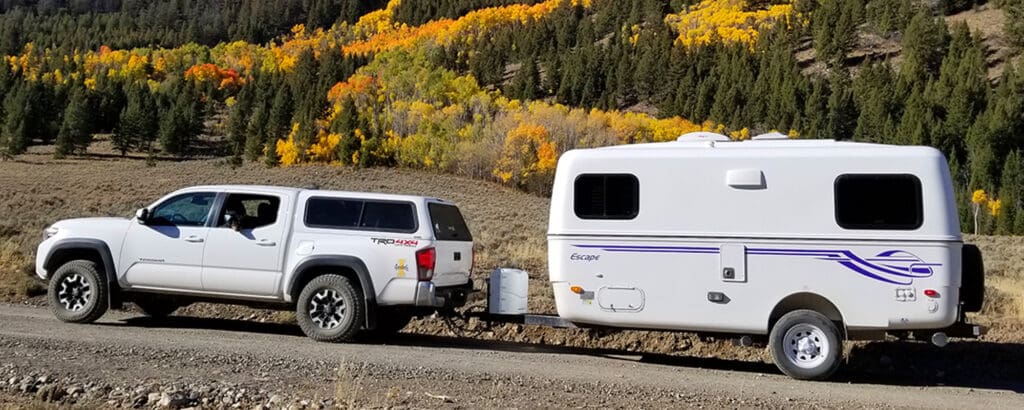 Why buy a new Escape fiberglass travel trailer?
There are many advantages to buying a new molded fiberglass trailer from Escape Trailer. From our friendly team that will help you at every step of the purchasing process to getting exactly what you want, a new Escape is a great investment. When you choose new, you will enjoy:
Size selection
Big or small… We have them all. Escape offers trailers from 17 to 23 feet. If you buy new, you can start by looking at trailers that are the size that you feel most comfortable with and best fits your tow vehicle. We can help you compare the possible lengths and weights of your future Escape Trailer to ensure you're not getting a one-size-fits-all RV.
Customization and personalization
If you want your trailer to fit your unique needs, you will want to customize it. Customs finishes and personalizations ensure your travel trailer is just right for your wants and needs to ensure it goes the distance when it comes to your future adventures. Full personalization is only possible when you buy new.
Unlimited possibilities without the worry of the unknown
With a used RV trailer, you have to take it as it is, then make alterations. This can lead to unpredictable renovation costs and turnaround time for the work. When you buy new, you can get all of the bells and whistles installed at the Escape factory, which ensures the quality of the work and provides you with a set date for delivery. Plus, you know exactly what your Escape trailer will cost you.
Know exactly when you will hit the road
Once you order your RV trailer, Escape will give you a delivery date. You will know exactly when you will be able to start using it. This isn't always true of buying used since you and the current owner will have to figure out the logistics of a test drive as well as delivery. And don't forget that pre-purchase inspection.
An Escape-backed warranty
When you choose new, Escape Trailer gives you the reassurance of a warranty. If something covered by the warranty isn't perfect, they will help you get it fixed!
Construction materials and methods improve over time
Technology isn't stagnant–Escape is improving materials and methods all the time. A new Escape ensures you can enjoy the latest systems and finishes. With new, you receive the best on the market, including aerodynamics, interior finishes, and other upgrades.
What Are The Benefits of a Used Escape Trailer?
There are excellent used Escape travel trailers for sale. And for some RVers, this option works best. If you're still deciding, consider these reasons for buying used:
They hold their value
Escape trailers hold their value better than most due to the quality of construction and materials. This provides you with the reassurance that what you're paying for your pre-owned Escape should hold steady in the long run.
You can update them with new technology
A used Escape can be outfitted with new components such as a lithium battery, MPPT controller and Victron components. However, make sure that the upgrades will fit the existing architecture and dimensions. And keep in mind, sometimes running new wiring and plumbing can be a major project.
Available now!
If you see the trailer advertised, you can bet that you can bring it home as soon as you sign on the dotted line and work out the details with the current owner.
You can look closer to home
How close do you live to the Escape factory? For some future Escapees, looking closer to home can be more convenient… even if it means limiting your selection to a handful or prospects.
New or used: Which Escape fiberglass travel trailer is right for you?
Whether you buy a new or used fiberglass travel trailer from Escape, you will love your hardy home-on-wheels! A molded fiberglass travel trailer is the best on the market for resisting rot and water intrusion, making it a great investment. So, consider the benefits of both before you buy. New or used–the choice is up to you!
To receive our newsletter by e-mail, please click the "Subscribe" button in the footer below.