Book a live video tour with Harrison & Christina
Harrison, our zoom meeting yesterday was wonderful. Not only did you answer our questions but often elaborated on that which we had not considered and did so in a relaxed, friendly and conversational manner.
I would like to share with the company that Harrison was the most professional and courteous salesperson I have spoken with in over 25 years dealing with RV and trailer salesmen. Thank you.
We'll walk you through your model of choice(s). You'll learn about the standard features and options available in a comfortable, relaxed, no-pressure setting.
To schedule your appointment, please click the button below. You will be slotted into the available calendar spot of either Harrison or Christina.

Please note: If you've scheduled a video chat, please have that app installed and ready to go prior to your scheduled call.

We use Facetime or Zoom as it gives us the best results for video calls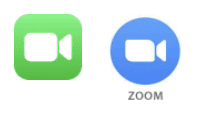 Personal video tours of the Escape 17A and the Escape 23 are not available at this time.
Go behind the scenes of a personal video tour!