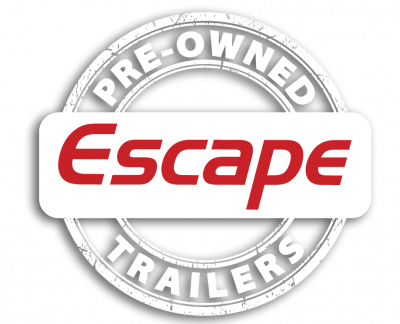 PRE-OWNED ESCAPE TRAILERS
FOR SALE BY OWNER
Trailers are sold by trailer owner, not Escape.

We will display your e-mail for buyers to contact you.

New listings are being added on Fridays each week. If you want your trailer listed please ensure the form is filled out and sent to us by end of day Thursday.

This is a FREE service. There are no fees to advertise your trailer.

Want to advertise your trailer here? See the details below, and then fill out the form to get started.
Here's what you need to do
Fill out the form at the bottom of our Pre-Owned submissions page. We will need the following info: Your contact details, Escape model and year built, VIN number, selling price, and the location of trailer.

Escape Trailer will not suggest a price. Please take factors such as demand, condition of your trailer and your timeline to sell into consideration when setting a price. Please click here to quote an Escape at its current price.

If you have the Escape build sheet showing the trailer options you can send that as a PDF. If not, you can include options and features in your written description.

A written description of your trailer up to 250 words. Please copy and paste your description into the comments field of the form.

Send a minimum 4 current photos of your trailer. At least 2 exterior photos and 2 interiors showing the front/side and rear/side of the trailer. If there are no photos, your ad will not be approved. PLEASE NOTE: We require recent photos, not photos from a camping trip last summer. We need photos showing the trailer as it is now. Horizontal/landscape oriented photos work best for displaying on our website.

PLEASE NOTE: Your e-mail inbox may be working overtime while your listing is live. We suggest that you may want to set-up an e-mail (with G-Mail etc.) specifically for the purposes of the trailer sale. Then, when the trailer is sold, you can delete the account.
Pre-Owned Escape Trailer Submission Form