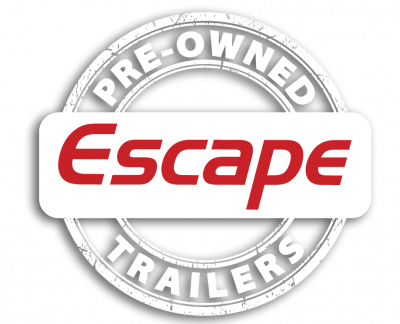 PRE-OWNED ESCAPE TRAILERS FOR SALE BY OWNER
Pre-Owned Trailer Listings
The following trailers are available for sale by the trailer owners. Here's how it works:
We pass on the names and contact details of potential buyers to the seller. We do so at the time the trailer is first listed and may sporadically send updated lists to the seller.
We do not pass on the seller's contact details to potential buyers.
Every time another trailer is listed, we pass on the names and contact details of potential buyers to that seller. You do not need to fill out the form more than once. We will keep your name on the list until you ask us to remove it.
 
1. Please fill out the form by clicking the "SUBSCRIBE" button below and specify which trailer model(s) you are interested in. 
2. Your contact info will be sent to the trailer owner(s) and they will make contact with the potential buyers from the list.
3. If you are not contacted, it's because the trailer sold or the seller chose not to make contact.
Please do not contact Escape directly about the status of the trailers. If the listing below does not say SOLD or PENDING the trailer is still available.
PRE-OWNED TRAILERS FOR SALE BY OWNER
Like new condition with under 5000 miles on trailer and always stored in enclosed storage. See build sheet for options and customer supplied items installed at the factory. Notable items include Dickinson marine grade cook top, upgraded sink. U-dinette option was customized by factory making the rear bench deeper than factory option. Excellent trailer waiting for next chapter.

Download Build Sheet
Trailer location: Bozeman, Montana
Fabulous trailer, selling because we will not be able to use it in 2022. We are also on the list to purchase the 23′. Escape has the best trailer on the market. I'm over 6 feet tall and am very comfortable unlike most other trailers.
Trailer location: Charlotte, NC
This trailer has only been used once on the trip back to Colorado from being picked up in Sumas Washington.
The trailer has a Maple interior and includes the following options and upgrades: 3 burner cooktop/oven, microwave, two-way hot water tank, foot flush toilet, one 190 solar panel with 1500w inverter, removable power cord, power awning, 11,000 BTU Dometic AC, wireless back-up camera,. frameless windows, aluminum rim package, high-lift axle, double entry step, spray foam insulation, springfield pedestal table mount in the rear dinette and also includes the Andersen hitch. Flooring is Mill Creek Axle, Formic is Silver Quartzite, and the fabric is Chinchilla Ultra Leather. Lots of additional extras, see build sheet for full list.
The trailer is in like new condition. The owner asked that we note some minor damage to the spray foam insulation happened while traveling on a gravel road and is shown in one of the photos in the gallery.
Trailer location: Silverthorne, Colorado
Pristine RV
Six trips under her belt
Anderson hitch included in price
See all options in build sheet


Trailer location: Santa Fe, New Mexico
Trailer is in great condition and only used for a total of 2 weeks for 3 years (6 weeks total). Stored inside at all times.
Trailer location: Calgary, Alberta, Canada
Stored under cover and well maintained.
Includes: 11,000 BTU Dometic AC, solar panel, shower, large 6.7 cuft fridge with freezer, 3 burner cooktop/oven, queen sized bed,  U-shaped dinette, and much more.
Brand new tires and low-flo BBQ that pipes into the trailer's propane system.
Will include all of the camping gear.
Trailer location: Vancouver, BC, Canada