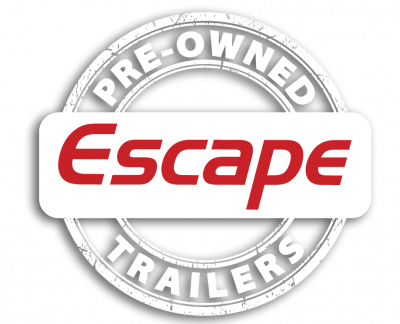 PRE-OWNED ESCAPE TRAILERS
FOR SALE BY OWNER
Escape Pre-Owned Trailers
The following trailers are available for sale
by the trailer owners.
The trailer owner's contact details are included as the final image of the photo gallery if the trailer is still available.
Please do not contact Escape directly about the status of the trailers.
If the listing below does not say SOLD or PENDING, the trailer is still available. 
Subscribe and get notified when your chosen model(s) launch on our website!
AVAILABLE PRE-OWNED TRAILERS
Excellent condition
Covered storage when not in use
Permanent double bed
Surge protector
2 6v batteries
4 cu ft refrigerator
Microwave
160 W solar panel
Additional sit rear upper LED brake lights
Air conditioning
Back up camera
Jack TV antenna
Frameless thermal windows in bathroom and kitchen – extra
Exterior access hatch
Storage box in front
Additional interior and exterior outlet
Electric awning
Power tongue jack
Trailer location: Cloverdale, California
Selling my practically new 2021 5.0. It has maybe 3K miles on it. Build sheet available to download below so you can see all the options included. This is a wonderful trailer with a sharp contemporary look to it. I also have the hitch if you need that.
Trailer location: Sacramento, California
One year old Escape 21NE in immaculate condition! Increased travel due to work demands have led to the decision to find this amazing trailer a new home. Trailer is currently winterized due to long Montana winters. Many upgrades to make this trailer incredibly comfortable and capable of going anywhere off-grid: 
Two-way Hot Water Tank (Propane & 120V)
Foot Flush Toilet
Toilet Shut Off Valve (for winterization)
Lithium Ion Battery (100Ah)
Inverter 1500W (Includes transfer switch & all outlets)
190W Solar Panel with Charge Controller
Zamp Solar Port wired to Regulator
Removable Power Cord
Power Awning
LED Awning Light Strip
Number Pad Door Lock
Wireless Back-Up Camera
Level Monitoring System (SeeLevel II)
Frameless Windows (including split-opening rear window)
Window in Bathroom (opening, frameless)
Aluminum Rim Package (5 tires & rims)
Body Lift Kit
Double Step Entry Step
Power Tongue Jack
Exterior Access Hatch Passenger Side
Front Cabinet Door at End of Dinette Bench
Exterior Propane Quick Connect
Spray Foam Insulation for Under Trailer (no heat pads)
Storage Box (Front of Trailer)
Stainless Steel Backsplash in Kitchen
Captains Reading Lamps (7)
Reinforced Walls (2)
Retractable Wall Hooks (12)
Full-wrap cushions (Monroe Steel)
12v/USB Interior Outlet (1 extra)
Lagun Adjustable Swiveling Table
Equalizer Weight Distribution Hitch (600lb) & Proven Industries Trailer Lock
Comes with 2 empty propane tanks & extra fuses
Shadow Grey Flooring
Portico Marble Formica

Trailer location: Bozeman, Montana