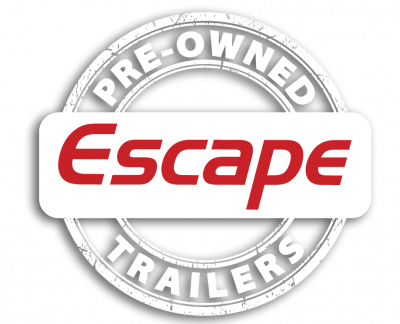 PRE-OWNED ESCAPE TRAILERS FOR SALE BY OWNER
Escape Pre-Owned Trailers
The following trailers are available for sale
by the trailer owners.
The trailer owner's contact details are included as the final image of the photo gallery.
Please do not contact Escape directly about the status of the trailers. If the listing below does not say SOLD or PENDING the trailer is still available. 
Subscribe and get notified when your chosen model(s) launch on our website!
PRE-OWNED TRAILERS FOR SALE BY OWNER
We have enjoyed our 5.0 TA since 2015 but must sell for medical reasons. We purchased the trailer on 02/24/2014 and took possession on 10/27/2014. However, instead of taking physical possession of the trailer with winter approaching, I asked Reace to arrange for 6-months of covered storage in Chilliwack. He happily obliged.
We have been delighted with the trailer for 7-seasons, racking-up approximately 2,500 miles per season. Off season I have always stored the trailer with my CalMark cover made specifically for the 5.0 TA. I have routinely covered the tires also. The trailer has numerous upgrades. Please look at the attached bill-of-sale for specifics.
The pictures show that I have an "enhanced" U-dinette. The back bench was too short for proper leg support so I fabricated an extension of 6-inches for more comfort. Pictures show that I don't have the table mounted. We wanted more of a "lounge" space to watch TV and found a portable table more practical for dining. The original table and pedestal is included.
There have been some minor issues. There are several areas on the roof showing small "spider cracks" in the gelcoat. This seems to be a common condition in fiberglass surfaces and easily remedied. I recently replaced the front hatch, which was damaged with age. While camping last May in Boise, we experienced a hot day culminating in a severe thunderstorm. The A/C was on when it suddenly quit. The electrical draw in the RV park was so severe it tripped the A/C. It remains unfixed.
Trailer location: Lewiston, Idaho
It's hard to let "Our Nest" go so soon after receiving her, but Harry was in a life-threatening car accident in 2017 and towing is no longer pleasurable for him. We enjoyed her for three trips for a total of 14 days. Other than towing, she is perfect!
Two solar panels, two lithium batteries, power inverter, EMS.
Lift kit, heated tanks, spray foam.
Custom countertop, sink, shower wand, lounge filler board and cushion.
Two-door cabinet under cooktop for potential convection microwave.
Three optional windows, plus split rear window.
And more… see build sheet.


Build sheet was $43,738 and 2022 prices for this set up is $48,321 (prices verified by Escape.)
Trailer location: San Dimas, California
Lightly used, non-smoker, no pets. Solar, A/C, Furnace, double propane tanks, Refrigerator, Manual Awning, anti-sway/weight distribution tow bar.
Trailer location: Kingsport, Tennessee