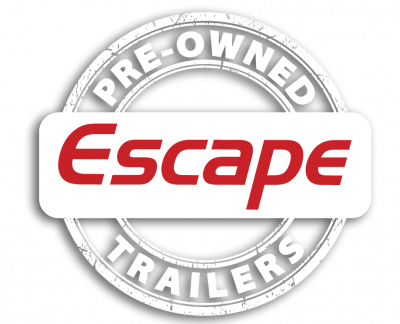 PRE-OWNED ESCAPE TRAILERS FOR SALE BY OWNER
Pre-Owned Trailer Listings
The following trailers are available for sale by the trailer owners. Here's how it works:
We pass on the names and contact details of potential buyers to the seller. We do so at the time the trailer is first listed and may sporadically send updated lists to the seller.
We do not pass on the seller's contact details to potential buyers.
Every time another trailer is listed, we pass on the names and contact details of potential buyers to that seller. You do not need to fill out the form more than once. We will keep your name on the list until you ask us to remove it.
 
1. Please fill out the form by clicking the "SUBSCRIBE" button below and specify which trailer model(s) you are interested in. 
2. Your contact info will be sent to the trailer owner(s) and they will make contact with the potential buyers from the list.
3. If you are not contacted, it's because the trailer sold or the seller chose not to make contact.
Please do not contact Escape directly about the status of the trailers. If the listing below does not say SOLD or PENDING the trailer is still available.
PRE-OWNED TRAILERS FOR SALE BY OWNER
2017 17B, loaded with options & in great shape.
Selling just in time for Father's Day! AC & Microair Easystart, Gaucho bunk, Custom fabric, flooring, and counters, external shower and external LP quick connect, remote Maxxfan, inverter, 2 6V batteries, solar port, power awning, foam insulation, frameless windows, aluminum rims, high lift axle, TV connect with Vizio 21" and JSB blue tooth sound bar included, more.
If you're interested, one way to contact the seller and see more photos of this trailer is register at www.escapeforum.org and message the owner under 'Escape RVs for Sale.' It's free to sign up.
Trailer location: Carmel, New York
19' Factory Custom Reverse Floorplan featuring a large U-Shaped Dinette in back with a factory custom table mounted on a Springfield Pedestal that easily converts to a Queen Bed. Permanent Double Bed up front with ample enclosed storage underneath.
Loaded with Options & upgrades: Dickinson 2 burner stovetop, Fastway E2 Hitch, 1UP Super Duty Bike Rack with 1UP accessories, Proven Industries Hitch Lock, Rino Flex sewer hose, BAL X-Chocks, Anderson Levelers, plus much more. Trailer kept under covered storage during ownership with very little use. Still shines and smells new. Excellent build quality with zero issues since new.
Trailer location: Green Valley, Arizona
Trailer is in very good condition and always stored under cover.
Trailer options:
Front storage box
Dual 6v batteries
Spray foam insulation
15″ wheels
New fridge door last year, cost was $488.96


Canadian buyers only please.
Trailer location: Cranbrook, BC, Canada