Retirement and RV Living: Is It the Right Choice For You? (Part I)
There's a reason so many people decide to retire and make an RV their full-time home. Life on the road offers retirees greater financial freedom, a chance to embrace adventure and re-evaluate what really matters in life to them. Whether you're looking to become more minimal, to be able to live more frugally or be able to split time between living near grandkids, this article will help you better understand what to expect from RV life during retirement.
The motivation to hit the road
Millions of people live full-time in their RVs. Add in all the retirees and tiny house homeowners in the U.S. and Canada, and North America is filled with people that call their travel trailers, campers, and motorhomes "home." While reasons can vary drastically, you want to be sure your motivation is fulfilled by the choice to live in an RV. So, what reasons do so many retirees choose to pull the anchor and embrace life on the road and remain satisfied with their decision?
Relocate to Avoid Rough Winters
We asked Fred and Paula Boley, a retired couple living in central Florida, why they hit the road, and they explained that their travel trailer gave them the opportunity to ditch the frigid winters in Missouri and live in a climate that is better for Paula's physical health.
Ditch the mortgage
Many other retirees want to embrace a more economical way to live. This often means cashing in on their home's equity and living mortgage-free. Yet others want to live in a high-cost-of-living area without the higher cost for housing.
Do RVers Truly Save Money? For the most part: yes. This all depends on your choice of travel trailer, lifestyle, and expenses. Choosing a trailer that retains a high resale value can protect your financial stability.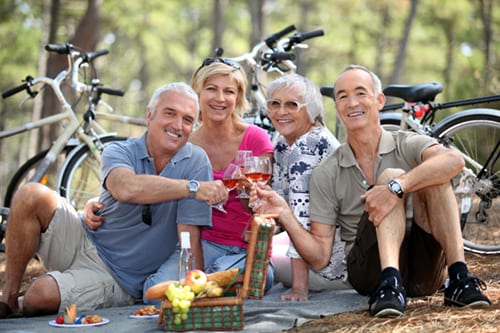 Live in a retirement community without the hefty HOA fees
For many, the ideal retirement is synonymous with rest and relaxation. This means sunbathing, enjoying quiet moments outdoors, and socializing with the neighbors. Most RV retirement communities offer all of the amenities of luxury retirement communities at an affordable rate. So, if you're looking to fall asleep to the sound of crickets instead of your neighbor's boombox, explore 55+ communities in your dream location.
Retirement communities also have daily activities and clubs that can enrich your life in retirement.
See the country
If your plan was to travel during retirement, an RV is a comfortable and convenient way to do so. Your trailer will quickly become your home-on-wheels, making travel a great way to traverse the country with your pet and spouse. 
Streamline and enjoy your golden years
One of the rare benefits of RV life is that you can simplify your bills and lifestyle. If you're going to live at an RV park, lot rent will often include utilities like water, waste hook up, electricity, and internet.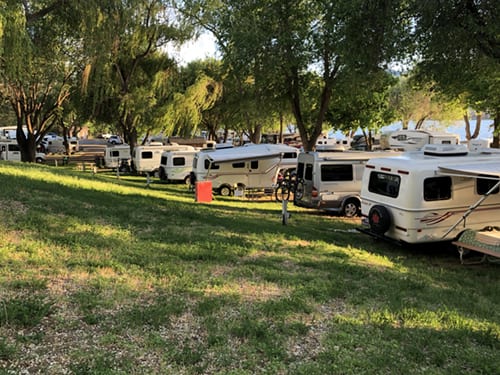 Who is best cut out for retirement on the road?
It should not come as a surprise that life on the road is not for everybody. If you're planning to live in an RV, you have to accept that you will need to pare back on your belongings and living space. If you're living in your dream home, it can be difficult to give it up for two-hundred square feet. If you're more interested in a yard the size of the U.S. and Canada than what the Joneses have going on, then you may be a great candidate for an RV retirement.
If you plan to travel or relocate, you have to come to terms with leaving your local friends and family. This can become more emotional for people with family members who have health issues or those that spend a great deal of time with their children and grandchildren. On the other hand, if your grandkids live in different parts of the country, an RV will give you the opportunity to spend ample time with everyone.
Ultimately, it's a good idea to sit down with your spouse and list your priorities for retirement. Does living in an RV reinforce these priorities or hinder them?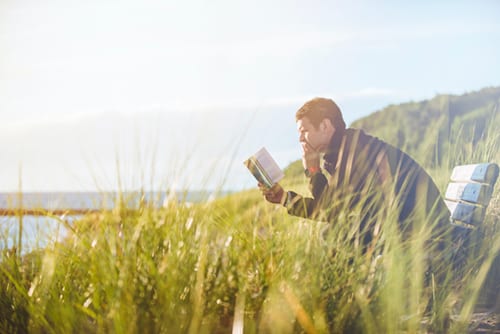 Other considerations when it comes to retiring on the road
Medicare across the Country
If you have Medicare Part A and B, you can receive medical care in all fifty U.S. states and Washington DC. The only catch is the provider or facility must accept Medicare. So, call before you show up.
What about travel outside of the U.S.? You're out of luck, except for one exception: Americans with Medicare are covered in Canada if they are en route to Alaska.
You can purchase additional coverages through Medigap, though, that will cover your medical expenses outside of the U.S. up to $50,000.
Medicare Part C (or Medicare Advantage Plans) can be a little more tricky when it comes to medical coverage outside of your home state. This is because Part C plans can vary widely. If your plan has a provider network, you may have to seek care at a walk-in clinic or ER outside of your state. You should speak to a customer representative from your insurance to better understand the ins and outs.
Medicare Part D (or prescription drug coverage) is similar to Medicare Part C in that your plan may or may not cover prescriptions outside of your home state. You will want to call and ask your provider.
Canadian medical care coverage outside of Canada
Canadians looking to travel abroad will want to familiarize themselves with their province or territory's health care plan. Most provinces cover medical care costs outside of your home province (but within Canada) as part of the Reciprocal Billing Agreement. Quebec is the exception.
Keep in mind, that emergency medical treatments will be covered by the province you are in, and that you must request reimbursement for medical costs incurred outside of the country, usually within a 90-day period.
Alberta: Limited outside of Alberta, must contact them before you leave
British Columbia: Limited outside of Canada
Manitoba: Limited coverage outside of Canada
New Brunswick: Must contact them before you leave
New Foundland and Labrador: Limited cover outside of New Foundland and Labrador, require an Out-of-Province Coverage Certificate for trips more than 30 days.
Northwest Territories: Limited coverage outside of Canada, notification of travel required for trips of more than 90 days
Nova Scotia: Partial coverage outside of Canada for limited emergency services, notification is required if your trip is longer than 3 months
Nunavut: Limited coverage outside of Canada, notification recommended for trips more than 6 months
Ontario: Limited coverage outside of Canada
Prince Edward Island: Limited coverage outside of Canada, notification required if leaving for more than 30 days.
Quebec: Limited coverage outside of Quebec
Saskatchewan: Limited coverage outside of Canada
Yukon: Limited coverage outside of Canada
When you leave Canada, your health care plan will most likely cover what your emergency care would cost in Canada or you are given a daily allotment. But you will be responsible for the remainder of your medical expenses, unless you have travel insurance.
The cost of medical care is exponential when traveling from Canada to the U.S., so you will likely want to invest in travel insurance. Otherwise, you may end up owing thousands of dollars.
Choose a lightweight fiberglass trailer with an unbeatable reputation
You want to enjoy your retirement free of unexpected trips to the mechanics or repair shop. Additionally, you want to travel with peace of mind. At Escape Trailers, we pride ourselves on building durable, reliable, and well-designed trailers that experience fewer issues. Furthermore, we offer a manufacturer's warranty, and our customer care team will continue to answer your questions and support you far beyond the purchase of your trailer.
Is RV retirement right for you? Make your Escape.
If you're considering enjoying the open road and want to learn more about how an Escape trailer can turn your retirement into the best years of your life. Take a virtual tour of one of our trailers and then contact us to learn more about how we can build your Escape Trailer to best fit your needs.
Are you ready to pack up, hit the road, and enjoy life to the fullest? Check out our next article on RV Retirement Tips to make your RV retirement the best it can be.
To receive our newsletter by e-mail, please click the "Subscribe" button in the footer below.