RVs: Azdel Panels vs One-Piece Fiberglass Shell
When it comes to choosing the best RV, you have to take into account its construction and materials. As you compare travel trailers, you will come across a wide range of options. However, we're going to dive into the difference between Azdel panels with stick-built construction and one-piece fiberglass construction. These two materials are often considered the most durable, insulating, and travel-friendly – and knowing the pros and cons of both can help you make a more informed decision.
Approach to Construction Matters
An RV is your home-on-wheels. Just like your home, you want your RV to be built on a solid foundation. When it comes to your RV, you can think of the frame as the bones and the materials put onto that framework as the skin, muscles, and ligaments. All of these elements affect your RV's longevity, durability, and comfort.
Stick-built trailers: stick, tin, & a whole lot of work
Stick-built trailers, also called "stick-and-tin trailers," are constructed from the inside out. The floor is laid down, and then the rest of the trailer, including internal walls, components, wiring, are installed on the platform. Finally, the walls and roof are affixed in panels to the exterior of the trailer. Speed is the key benefit to this production method, at the cost of durability.
More panels = more weak points
The multitude of panels in a stick-built trailer form a myriad of weak points across the entirety of the trailer. Subjected to stresses on the road, the seams between these panels will eventually start to bend and break. Once the seams crack, water will make its way in; this leads to mold and other structural issues. 
If you have a friend who is working on their trailer more often than they are out on the road, this is why. These seams need constant maintenance to ensure the trailer isn't susceptible to water. Furthermore, the maintenance will only increase the older the trailer gets. 
Can Azdel make up for structural issues?

 
You may have heard of Azdel, a fiberglass composite that replaces the interior wood paneling in RVs. This material is widely used in stick-built trailers as it has good anti-mold and insulation properties. Unfortunately, Azdel is used to cover up the bigger issue of leaks inherent in a stick-built trailer. 
While Azdel has many good properties excellent for any travel trailer, it pales in comparison to the strength and longevity a one-piece fiberglass trailer offers.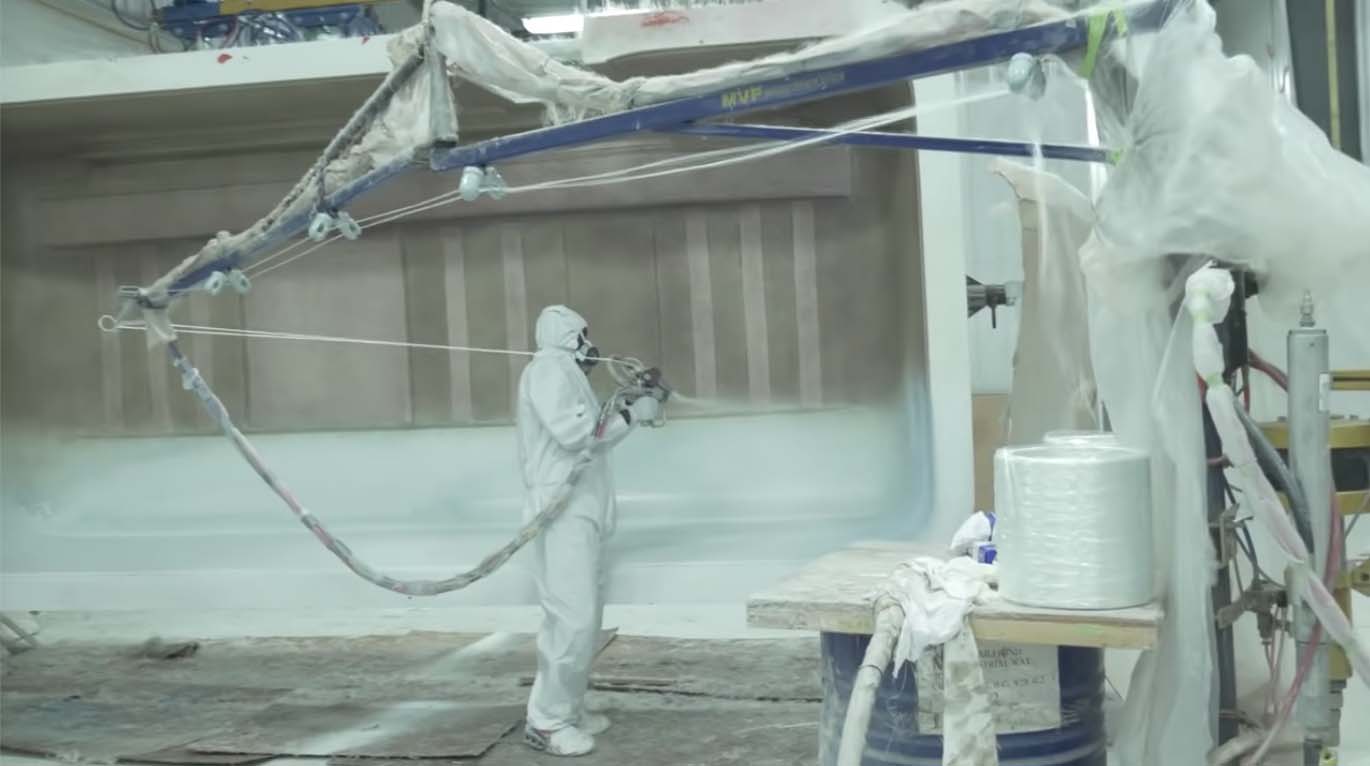 Fiberglass: the foundation for a fabulous trailer
Before we discuss one-piece fiberglass travel trailer construction, we'll go over the benefits of fiberglass as a whole. Fiberglass is an excellent material that offers a great strength-to-weight ratio. Additionally, it will not dent and is easily repaired if it gets cracked, chipped, or broken.
Outside-in construction keeps water out
Fiberglass is a versatile material used in many different applications in building trailers, including Azdel panels. However, one RV construction method stands tall above them all: one-piece fiberglass.
Constructing a one-piece fiberglass trailer
One-piece fiberglass trailers are built from the outside in. The first, and most important step, is to build the fiberglass shell. Fiberglass is formed inside a mold to achieve the desired shape of the final product. In the case of a one-piece trailer, there will be two molds used: the bottom and top halves.
To begin the construction, a layer of gel coat is applied to the interior of the mold. This forms a shiny, clean exterior. Then, the fiberglass is laid down and sealed with resin. There is special attention paid to ensure that the glass fibers run in varying directions for optimal strength. Wood supports are affixed throughout the process and covered with fiberglass to improve structural strength.  The result of this process is two halves strong halves of a one-piece trailer. 
The next step is to join the two halves together. The top half is flipped and lifted onto the bottom half. Next, fiberglass is applied to the seam line between the two halves. This action forms a fiberglass 'weld' and ensures that there are no seam lines for water to get in. 
Finally, the installation of internal components is all completed inside the shell. 
How does maintenance differ between Azdel & fiberglass?

 
The best way to describe the maintenance differences between these two RV constructions is simple; stick-built trailers require reactive maintenance, whereas one-piece trailers require proactive maintenance. 
In other words, a leak in a stick-built trailer isn't obvious until you see the water pool inside the trailer. Once found, you have to react, find the leak, and fix it. Azdel will ensure that the leak doesn't saturate the wood walls and cause mold, but doesn't eliminate the key issues with panel-built construction. Rejoining panels, resealing roofs, and cutting out/replacing rotted pieces from the roof or floor are just a few of the potential issues in a stick-built trailer with Azdel panels. 
One-piece trailers, however, require little annual maintenance on the shell (a wax once per year is the bulk of the work). Every 5-7 years, owners simply check the silicone seals around the windows, air conditioners, etc. and reseal if needed. This means you are proactively dealing with any issues before they intrude into the trailer.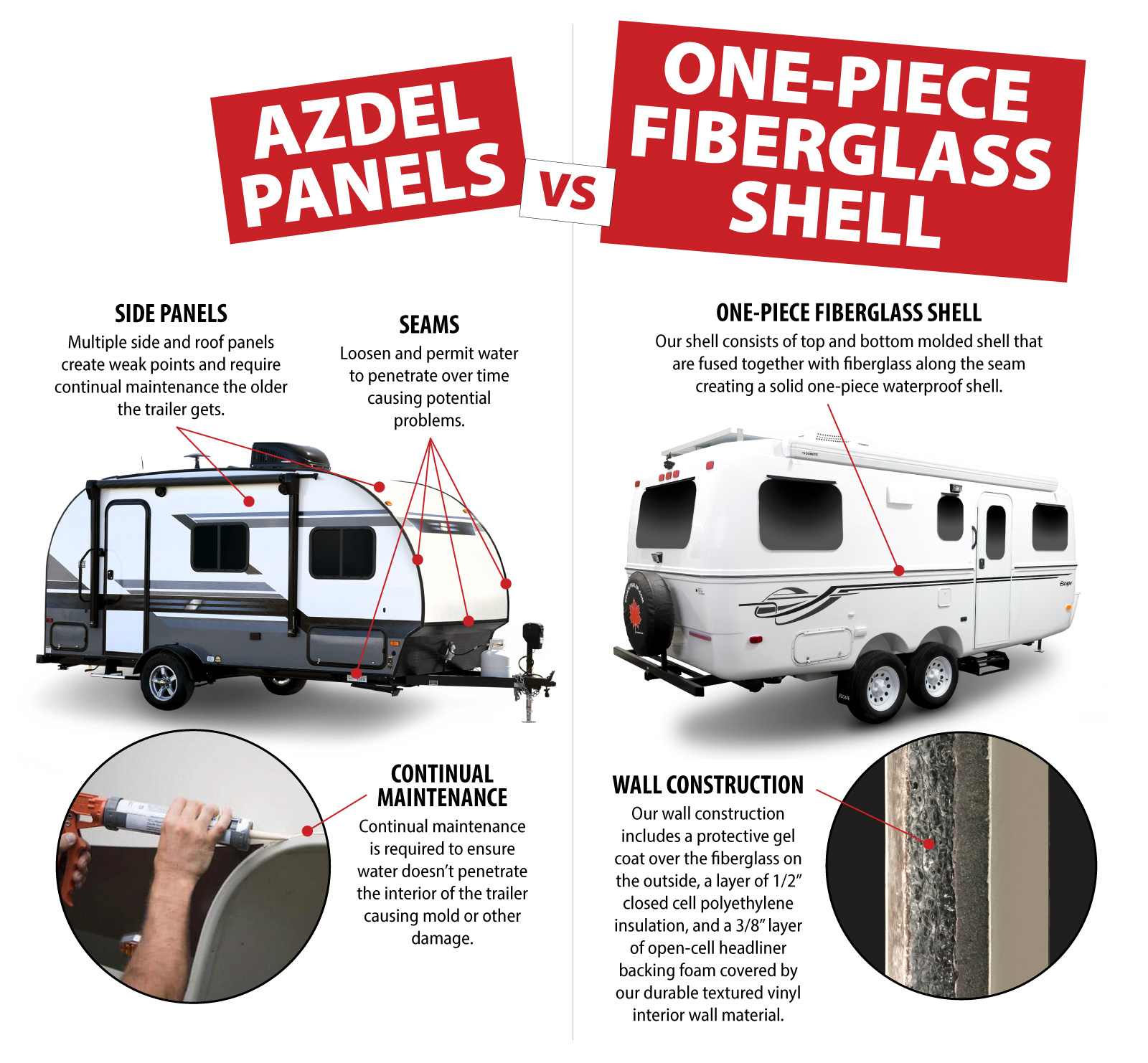 One-Piece will keep your investment whole
The low chance for leaks and strong exterior make one-piece trailers hold their value exceedingly well. In fact, the pre-owned market is heavily competitive for one-piece fiberglass trailers selling for a good price, quickly. Further, the cost of ownership is low as they do not need nearly as much maintenance as a stick-built does. 
Stick-built trailers, even those that use Azdel, still see many structural and leak issues that massively affect resale value. The panel-built construction is a recipe for disaster and requires more and more maintenance the older the trailer gets. 
Fiberglass trailers are built to last. Shouldn't yours be built for you, too?
As you can see, a fiberglass trailer will stand the test of time. Since you'll have a one-piece trailer for decades, it should also have exactly what you want in it too! Escape Trailer is a one-piece fiberglass trailer manufacturer that builds for you!  We offer more customization and personalization than any other manufacturer. Interested in learning more about Escape? Watch the following video for more information. 
To receive our newsletter by e-mail, please click the "Subscribe" button in the footer below.