Escape 5.0: Lightweight Fifth Wheel Trailer
The Escape 5.0 targets trucks with a minimum 5'6″ bed and suitable payload/tow capacity. The aerodynamic design, tandem axle and low center of gravity makes for better road stability, fuel economy, and decreased wind resistance. The one piece fiberglass trailer construction creates an incredibly stiff and smooth structure to last a lifetime.

Will your truck work with the Escape 5.0? Click here for our towing compatibility guideline
The Escape 5.0 is lightweight and easily towed with a mid-size truck. This 21'2" fifth-wheel trailer offers separate sleeping and living areas as well as extra high ceiling for a spacious feel. Extra storage under the steps, dinette bench seats and a generous amount in the kitchen offer a place for all of your camping necessities.
This solid one-piece fiberglass shell is strong, durable, easy to clean and completely waterproof. You will have no concerns about structural issues in the future.
The US-based RV Consumer Group has placed the Escape Trailers at the top of the list based on its coach and frame construction, tow ability and resale value.
The Escape 5.0 comes with our Manufacturer's two-year warranty.
Will your truck work with the Escape 5.0? Click here for our towing compatibility guideline
*ALL PICTURES SHOWN ARE FOR ILLUSTRATION PURPOSE ONLY.ACTUAL PRODUCT MAY VARY DUE TO PRODUCT ENHANCEMENT
2021 pricing - Starting at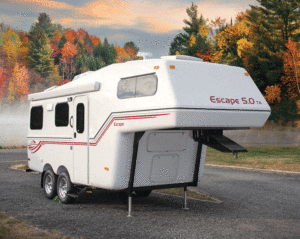 RV Review: Escape 5.0 Fiberglass Fifth-Wheel
By Chris Herner – September 29, 2019
The Escape 5.0 offers fifth-wheel benefits in a package that can be towed by almost any full-size pickup.
We've been entangled in a few heated debates with readers over the years on the subject of half-ton fifth-wheel towing. "You can't do it!" they howled. "There's not enough payload capacity!" We calmly attempted to explain that, depending on the size of the fifth-wheel, its pin weight and the tow rating of the truck in question, that it is indeed possible. [View full article on trailerlife.com]
Overview
One-Piece Fiberglass Shell Construction
The Escape 5.0 has a 100% molded fiberglass body, hand-laid in a two-piece mould. Our fiberglass team bonds the upper and lower halves together before the shell is demolded as one piece and bolted to the frame. Anchor points are fiberglassed in strategic locations for mounting the interior cabinetry and walls. This method of construction ensures a structurally solid trailer. This durable, seamless trailer will not twist or distort over time.
Lightweight & Aerodynamic Design
Many key features of the Escape make it lightweight and aerodynamic. The Escape 5.0 weighs approximately 3910lbs (dry weight) keeping travel costs to a minimum. The Escape 5.0 targets the mid-size truck market and most trucks, including short-beds, with a V6 engine can tow the Escape. The aerodynamic design of the Escape 5.0 incorporates a low center of gravity for better road stability and decreased wind resistance. This combined with the rubber torsion suspension axle, which is used in all of our Escape models, not only reduces vibration while traveling but also provides independent suspension and is maintenance-free. The 15" radial tires (including the full-size spare) are balanced before you pick up your trailer.
Amenities
The Escape 5.0 comes standard with an easy and comfortable galley with a large 6 cubic foot fridge, a full interior shower and toilet, queen upper bunk, independent power landing gear, and plenty of storage. The interior is professionally finished with natural maple or light oak cabinetry – the doors are solid wood, large windows, high-grade linoleum flooring and a unique insulated vinyl headliner/wall covering for a clean, bright and hygienic finish.
Floor Plan
Specifications
| Specifications | Value |
| --- | --- |
| Exterior Length | 21′ 2″ (add 6″ for spare tire) |
| Max. Exterior Height | 10′ Top of TV Antenna (9′ 7″ Top of AC) |
| Exterior Width | 7′ 4″ |
| Interior Height | 6′ 4″ to 7′ |
| Fresh Water Capacity | 28 Gallons |
| Black Water Capacity | 30 Gallons |
| Grey Water Capacity | 28 Gallons |
| Liquid Propane Gas Capacity | 2 x 20 lbs |
| Hitch Weight | 646 lbs |
| Axle Weight | 3264 lbs |
| Total Dry Weight | 3910 lbs |
| GVWR | 5500 lbs |
Features
E5.0 Towing Guide
Escape 5.0 Towing Compatibility Guidelines
The Escape 5.0 is a tandem axle 5th wheel trailer that was designed to be towed by a standard half-ton pickup truck.
There are a wide range of vehicle & options package combinations that can be used to tow an Escape 5.0, with new vehicles coming into the market every year. Due to the wide range of possible tow vehicles Escape Trailer is not qualified to approve customer vehicles for suitability.
We are here to help, so we have prepared a fact sheet with all the necessary dimensions to help our customers or installers assess the compatibility of their vehicle with the Escape 5.0 trailer.
E5.0 Height Specs