21′ Fiberglass Fifth Wheel
Starting from:
$44,510 USD
Finance monthly from:
$394 USD
Lightweight Fiberglass Fifth Wheel Trailer
The Escape 5.0 is 21'2" and easily towed with a mid-size truck. It offers a full wet bath, separate sleeping and living areas, as well as an extra high ceiling for a spacious feel.
The Escape 5.0 targets trucks with a minimum 5'6" bed and suitable payload/tow capacity.
The aerodynamic design, tandem axle and low center of gravity makes for better road stability, fuel economy, and decreased wind resistance. The one-piece fiberglass trailer construction creates an incredibly stiff and smooth structure to last a lifetime.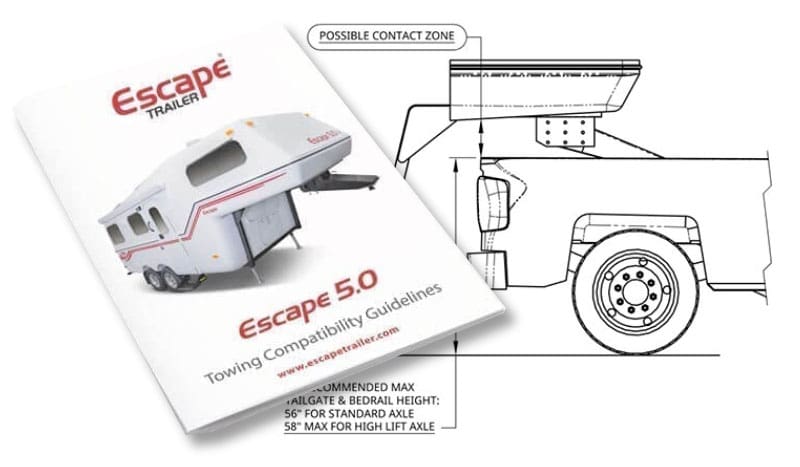 There are a wide range of vehicle & option package combinations that can be used to tow an Escape 5.0. Due to the wide range of possible tow vehicles, Escape Trailer is not qualified to approve customer vehicles for suitability.
We're always available to help. We've prepared a fact sheet with all the necessary dimensions to help our customers or installers assess the compatibility of their vehicle with the Escape 5.0 trailer.
If you're considering an Escape 5.0 trailer, you'll find a lot of useful information in the showcase video below. This video will show you the base features and options on the exterior and interior of the E5.0.
Escape 5.0 Configuration Options
This video will help you understand the over 100 options available allowing you to truly make your trailer one-of-a-kind. Choose from Lithium Ion Batteries, Solar Panels, AC, Oven with Cooktop, Microwave, Compressor Fridge, Composting Toilet, Power Awning, Frameless Windows, and many more.
See an Escape with one of our 1300 ambassadors, view one of our showroom trailers from the comfort of your home, or visit us in our showroom, we make it easy to explore an Escape.
See an Escape in person
Live personal video tours
Visit our showroom
Virtual 360˚ interior tours