Why Personalization Matters in Your RV
Turn your Escape trailer into your personal paradise with these simple ways to personalize your RV.
When it comes to the comforts of home on the road, personalization transforms an RV into your home-on-wheels. You wouldn't move into a house and not tweak the wall colors and decor. So, why wouldn't you do the same with your camper?  Selecting what you want and need makes all the difference after getting back from a long day fishing or hiking. Whether you're setting out for a lifetime of adventures or a weekend trip with the family, having a personalized space to relax and unwind is just one more way to escape from the hustle and bustle you're leaving behind.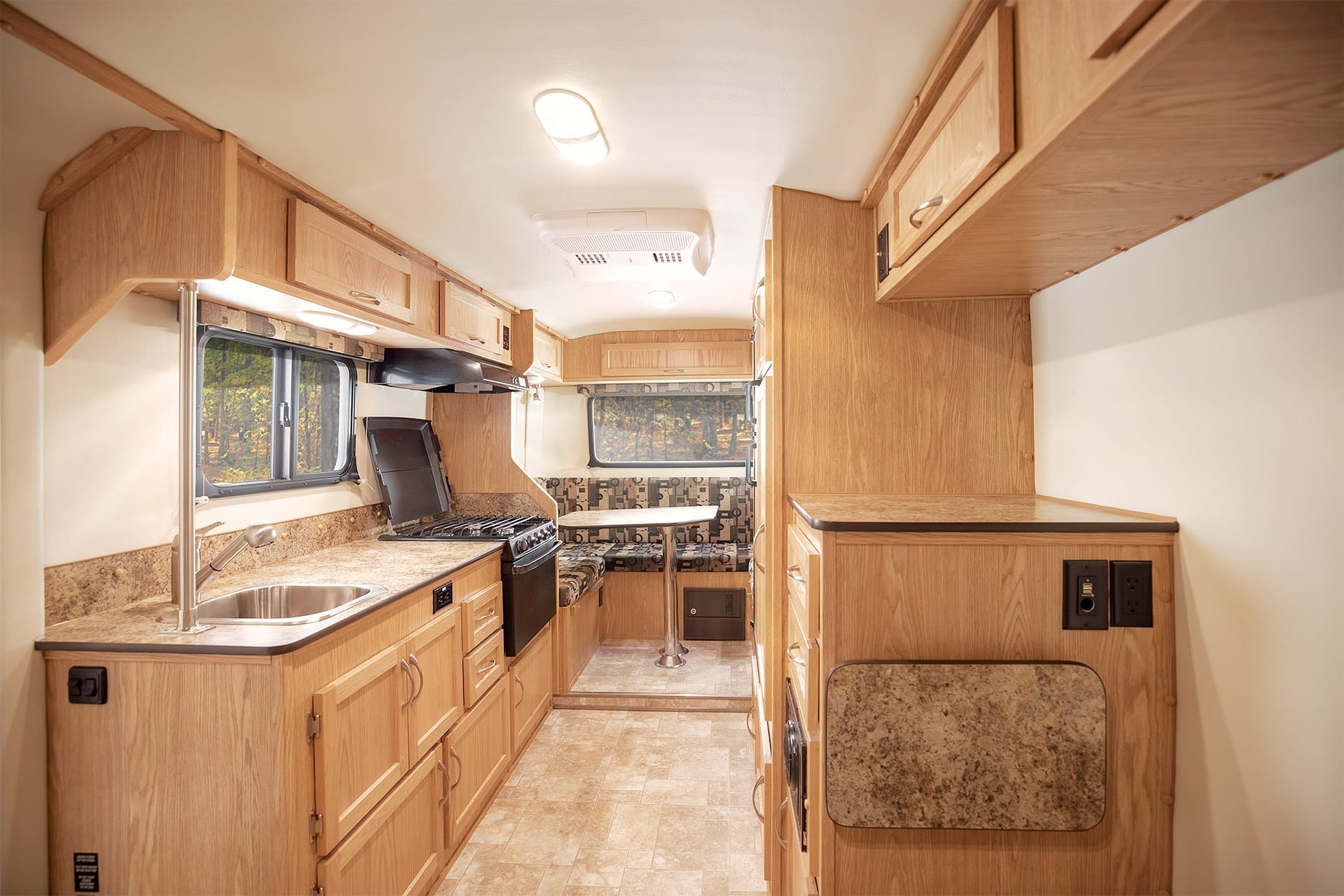 Does decor really matter? Absolutely. While getting a strong dose of 'vitamin green' is naturally uplifting, your home decor and design extends that happiness into your RV.
How personalizing your Escape Trailer makes it your own
Just because you're mobile doesn't mean you need to go without. When your RV reflects your personality and values, you open your life up to more adventure. This is why we offer a wide selection of personalization options for our lightweight fifth wheels. When designing your home-away-from-home, these personalizations make a huge impact:
Fabric upholstery
High-quality and stylish fabrics give your RV a designer's touch. Fabrics create a welcome respite from the great outdoors after hiking and exploring. We offer seven tasteful fabrics or the option to order your own. Many customers choose from the large selection at Sailrite and JT's Outdoor Fabrics, Inc. If you've fallen in love with another fabric, we are happy to use that to make your new Escape trailer your dream home on wheels.
DIY extras: Adding curtains, throw pillows, and bedding further transforms your trailer into a space that reflects your taste and personality. Comfy pillows also add extra comfort.
Countertops and surfaces
Do you have a knack for cooking? Don't settle when it comes to your countertops and surface trims. An inviting kitchen makes cooking on the road more enjoyable and your culinary endeavors more exciting.
From stylish Silver Quartzite to Mineral Jet, our countertop selection reflects the latest styles from top designers. And, of course, you can explore the selection of Formica and choose a style that reflects your taste. All you have to do is send us the product name and number. We will order it and have it installed in time to make you smile when you see your brand new, lightweight fifth wheel.
DIY extras: Placemats and unique kitchen storage options transform your kitchen into the perfect place to experiment with new recipes or whip up some home-cooked favorites.
Flooring
Pull it all together with luxurious and attractive floors. Selecting a floor that matches your personality makes it easy to settle into life on the road. Equally important, when you choose one of our flooring choices, you know you're getting a durable product that's easy to clean. This frees up your time to enjoy friends, family, and endless adventure.
There are so many options to explore, but we recommend looking through the selection of vinyl flooring at one of these companies:

DIY extras: Rugs and outdoor rugs can make your space cozier while extending your living area into the outdoors. We love this customizable doormat which is almost too cute to wipe your hiking boots on.
Storage and more customizations
What are your "don't-leave-home-without-it" items? Escape trailers are built and designed for you and all the things you love–including your pets and hobbies. Your hikes, fishing trips, and other adventures are the reasons you're investing in an RV, so bringing along the equipment that enhances these is a no-brainer. 
If you cannot imagine living without it–don't. We can design personalized storage and living spaces for those things that matter most. Whether you need a place for your cat's bed, dog's dinner, or room for skis, we can make it happen.
DIY extras: Art, photos, and wall paint add liveliness and touches of home.
Personalization: Making a Major Impact on the Move
With simple personalizations, an Escape trailer becomes your home sweet home. Reflecting your personality and needs is our priority, which is why we offer a wide array of personalized customizations and finishes. Most importantly, we don't skimp on quality or details.
Beginning to picture your life in an Escape Trailer? Try taking a virtual tour or book a personal video tour with an Escape specialist here.
To receive our newsletter by e-mail, please click the "Subscribe" button in the footer below.