Ideas to Personalize Your RV
Most people want their home to reflect their unique personality, and the same holds true for their RVs. Who wants to pull into a campground, only to find five identical RVs?  With a little effort and money, you can get your RV to look, well…like you.
The first thing you want to think about, if you are buying a new RV, is to order it exactly the way you will want it. Escape Trailer's personalization process makes getting what you want easy. Think about the internal and external colors, awnings, cupboards, furnishing and upholstery. Make it yours before you buy.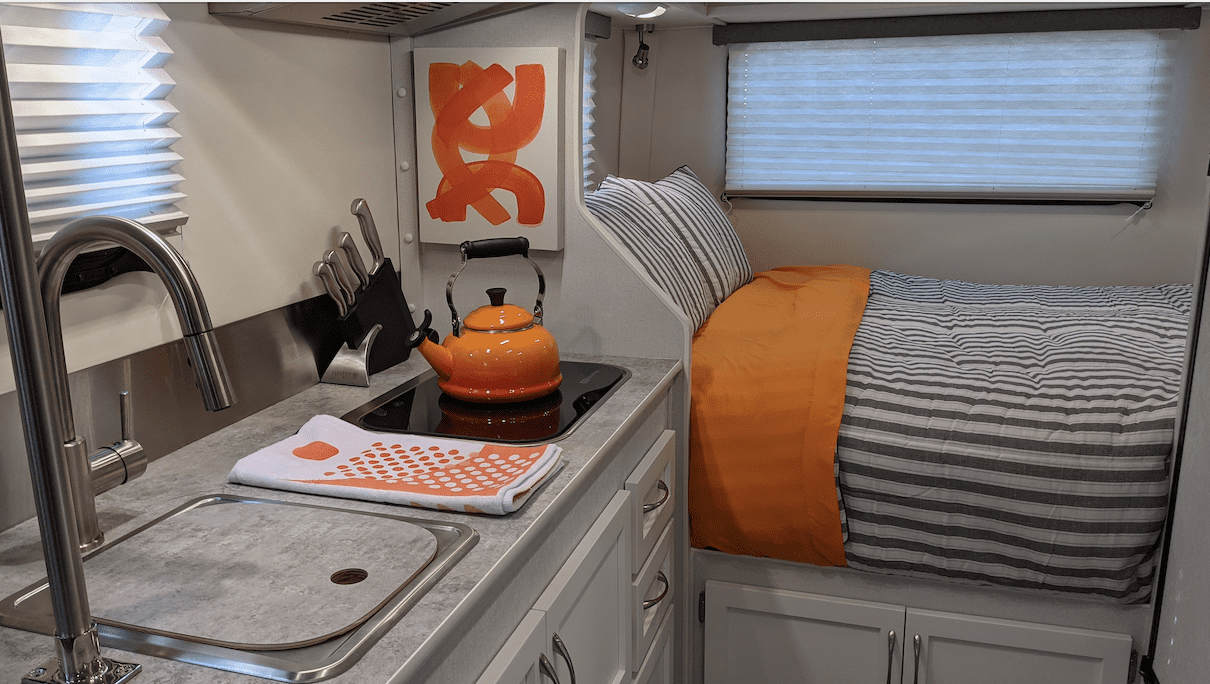 Decorating the interior of your RV
Looking to remodel the RV you already own? First, clarify your budget. You can save money by doing it yourself, but remember that it is never as easy or as inexpensive as you first think.
Keep functionality in mind
As you start to plan, you want to make sure that any changes that you make will not affect the way that you move around your RV or cost you usable space. Quarters can be cramped enough already, and you don't want to sacrifice usable space for something new.
Color makes for an easy change with a big impact
One of the easiest things to change is the color. Paint or wallpaper can cover a lot of little imperfections and make an older RV look almost brand new. A bit of backsplash along the kitchen can help too. Lighter colors can make your RV feel larger. Yellows add warmth to your decor, while blues and greens can make it feel cooler. Pick the color that reflects your personality. 
Consider a new flooring
Updating your flooring material is a good way to personalize your RV. Installing self-adhesive tile is an easy way to decorate your home away from home. There are many patterns to pick from, and they are very easy to install.
Changing the carpeting, especially if yours is old and showing signs of wear, can breathe new life into an older RV. With all the cuts and angles, this might be a job to leave to a professional. New bedding can give your bedroom a new look, too.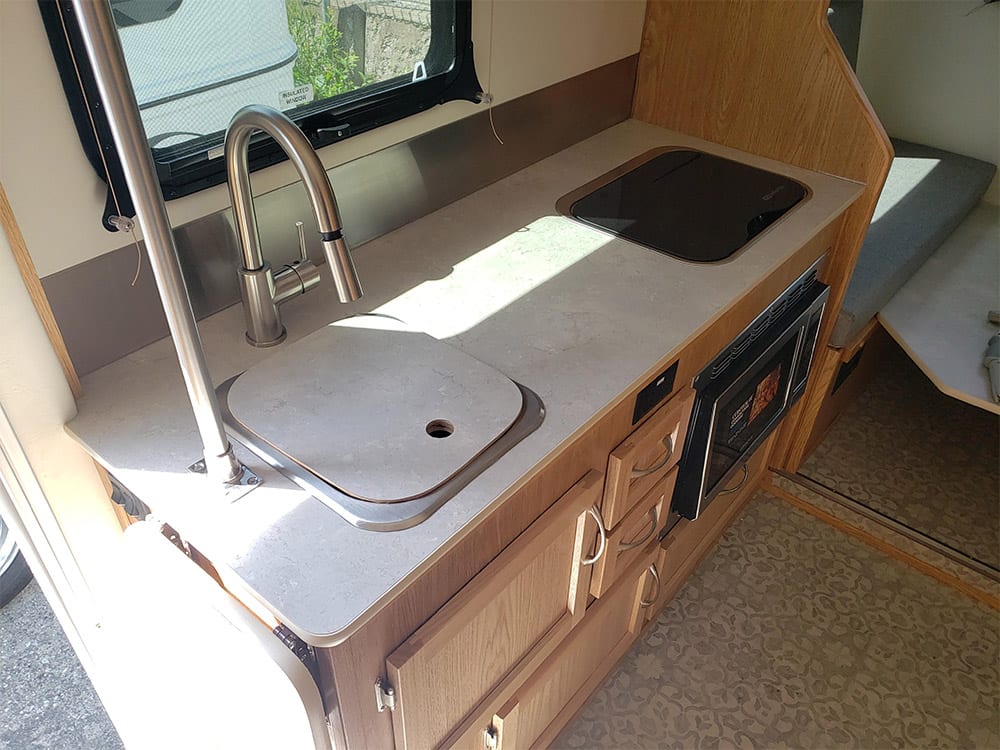 Forget about your tired and outdated furnishings
Tired of your existing furnishings? There are many things that you can do:
Remove and install new cabinets

Replace chairs and sofas or have them reupholstered. Replace your current countertop and table 

Install a tile backsplash to your kitchenette


Small personal touches go a long way to creating an inviting environment
Make it feel more like home by adding photos of family and friends. Since many RVers love taking photos, have one of yours enlarged and framed. A calendar can also liven up your interior.
Look for souvenirs and mementos as you travel. Hit some thrift stores, locally-owned shops, yard sales for unique items that you can hang on one of your walls. Things like:
Hanging baskets

Coffee mugs

Small pieces of art

Cutting boards

Maps

Look for things, like baskets, that you can mount on the wall–things that look nice but are useful as well.
Clocks can add personality to your place as well. There are thousands of styles available, just find one that fits with you and the style that you are trying to include.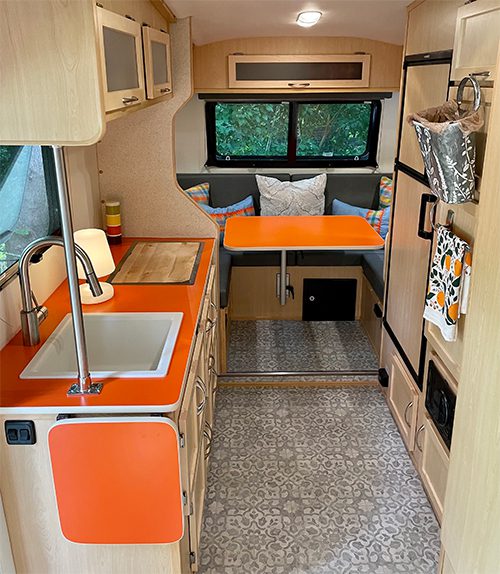 Add holiday joy to your journey
Getting near one of the holidays?  Lights, stickers and decorations can set your RV apart from its neighbors. Some other easy ideas are:
Bring along

solar Christmas lights

for when you park

Add an awning or install a new, more colorful awning

Add your name above your door

Set a welcome mat in front of your door

Add bumper stickers from the places that you travel
Don't rush the design process
As you personalize your RV, remember to take your time.  You do not want to spend time and waste money on something that you will tire of in a few months. And keep in mind the resale value of your RV as well.  Make sure that others will like it so that you don't lose resale value.
Take your time and collect ideas and items as you travel. Look at what other RV owners do to make their home on wheels their own. Ask yourself what others do that will work for you. Soon your concepts will begin to solidify and you can start redesigning your home away from home so that it best reflects you and your unique personality.
Personalize your next RV from the get-go
Timeless style is a great way to extend the life of your RV's interior and exterior. When you purchase your new RV, opt for classic and durable materials that will stand the test of time.
Learn more about your personalization options with Escape Trailers.
To receive our newsletter by e-mail, please click the "Subscribe" button in the footer below.