Is A Fifth Wheel Trailer Right For You?
When it comes to finding the right trailer to fit your camping and travel needs, the comfort, convenience, and durability are all important features to consider. If you're in the market for a new trailer, the Escape 5.0 combines towing, stability, and maneuverability advantages of a fifth wheel with the lightweight and compact features of a travel trailer.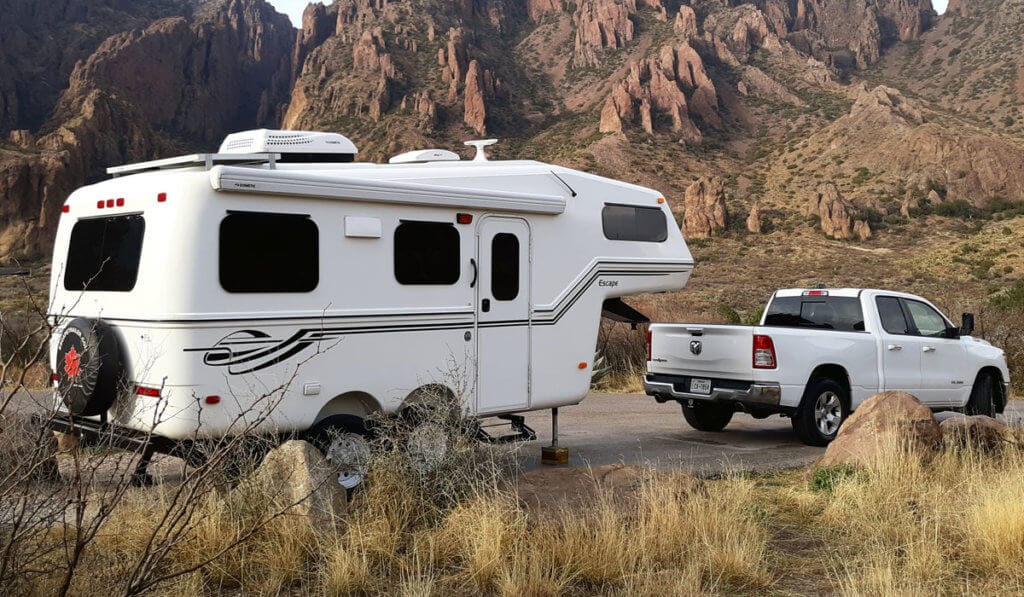 Towing and Exterior

 
Built with a durable one-piece fiberglass exterior, the Escape 5.0 is both compact and lightweight allowing you to tow your trailer with many half-ton trucks. Smaller than your average fifth wheel trailer, the Escape 5.0 is a 22' trailer built for optimal maneuverability along roads, campgrounds, and national parks. Designed with tandem axles and a low center of gravity, these trailers offer excellent road stability. 
Along with safety, stability, and ease of maneuvering, Escape trailers don't require the typical fifth wheel hitch for towing. Instead, the Escape 5.0 can use an Andersen Hitch which is lighter in weight and can be removed when not in use!
Interior Design and Amenities
One of the ways Escape Trailers stands out from the crowd is with our unique interior design and impressive range of customizability. Designed with a ton of amazing base features, the cabinetry doors are made from real wood and there are more than a hundred options to choose from, anywhere from lithium batteries and solar panels (for your extended boondocking trips) to the convenience of a beautiful convection microwave oven.
When it comes to camping and long road trips, space is a necessity. Although compact in design compared to a traditional fifth wheel, the Escape 5.0 gives you separated living spaces to include a lofted queen size bed with entry at the front and extra high ceilings for a more spacious feel. It's important to keep in mind that you won't be able to use your trunk bed to tow dirt bikes, kayaks, or an ATV.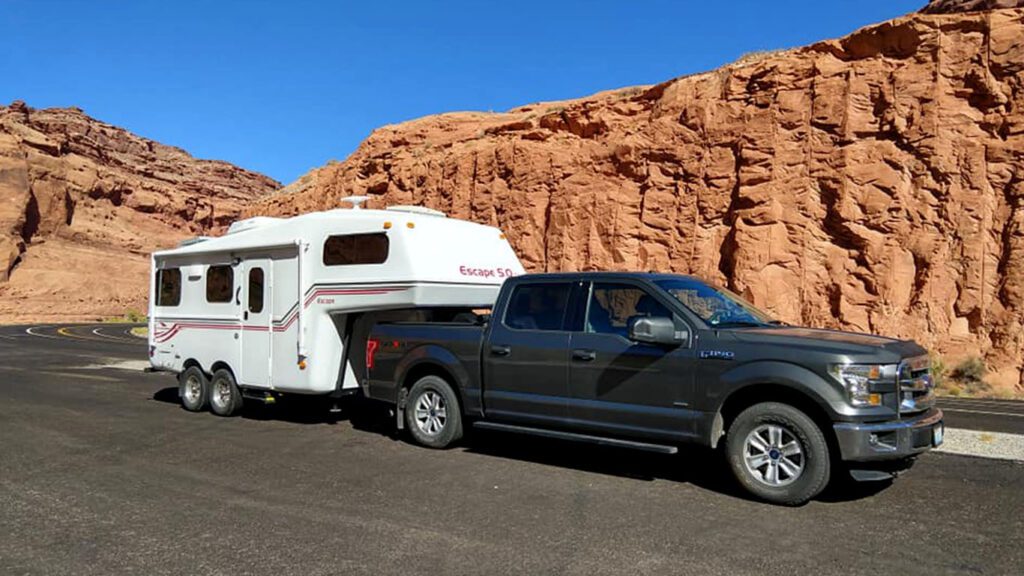 Price & Fuel Economy
When it comes to price and fuel economy, size and weight matter! As a compact fifth wheel, the Escape 5.0 is not far off compared to the Escape travel trailers in terms of both purchase price and fuel economy. Designed with an aerodynamic exterior, the fifth wheel decreases wind resistance during travel to help improve its fuel economy. 
Without having the extra weight of a standard-sized fifth wheel, the Escape 5.0 can be easily towed with a midsize truck making it a convenient option for most people. We recommend using the Escape Trailer towing calculator to determine if your current vehicle is safe to tow your new trailer.  
The Bottom Line
Overall, the Escape 5.0 trailer is a beautiful unit for a couple or small family. Having a small, lightweight design gives you the convenience to access smaller spaces that other fifth wheel trailers couldn't even dream of. Designed with a unique interior that is equally as spacious as it is cozy, you'll get everything you need plus have the choice of making it your very own "home" with a large selection of options and interior color choices. 
With more options than any other manufacturer, exceptional resale value, and the freedom to get outside and enjoy nature whenever you want, the Escape 5.0 is one of the very best on the market for good reason. It's time to turn your camping dreams into a reality and build your Escape today. 
To receive our newsletter by e-mail, please click the "Subscribe" button in the footer below.