RV Gardening 101: Mobile Gardening Guide
If you have a green thumb, you don't have to give up your passion for plants while on the road. With a bit of planning and knowledge, you can become a pro at RV gardening. If you're used to a large yard, you might have to adjust to scaling back your gardening and change methods, but going green on the road can be one of the most rewarding hobbies no matter where life takes you. Growing plants while traveling is easier than you might think. Here are some suggestions.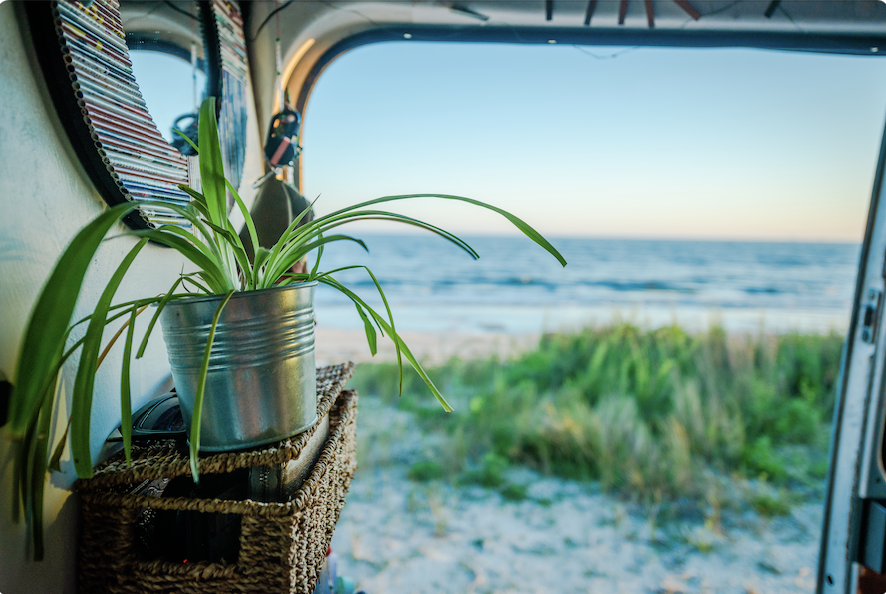 Why exercise your green thumb on the go?
Bringing a few plants with you when you hit the road can remind you of home and brighten up your RV. Gardening also has a profound effect on your physical and mental health. Gardening from your RV will also enhance your decor and give you a few tasty treats while you are at it.
What to know to grow on the road
Like most of your RV adventures, gardening on the road takes a bit of ingenuity and imagination. It also takes some planning ahead and knowing the procedures for things such as crossing state and international borders.
Crossing borders
When you are crossing state, province, and national borders, you might need to declare what plants you are bringing with you. Florida, California, and Arizona are known for having some of the strictest plant policies. However, this practice prevents spreading plant diseases and invasive species to the areas where you're traveling.
Be prepared. You might get inspected. So, check with the states and provinces you will be crossing for their rules and regulations. Make sure that you have sterile potting soil, too, since many pathogens thrive in soil. Hydroponics will help eliminate this problem.
Let's shine a little more light on the subject. 
When you stop, set low-light and indirect-light plants under an awning or on the north side of your RV. Plants that prefer bright light can be placed directly in the sunshine.
As you travel, you can put your plants next to windows so that they can get plenty of light, but the light level in RVs might not be bright enough for some of your plants. If that is the case, you might want to look into grow lights. There are a variety on the market and most are not too expensive. Before you buy, see how easy they are to install and make sure that you have the space in your RV for them.
Potted plants are great on the go!
Potted plants can range from small succulents or air plants to large tomato plants. When you are shopping for pots, pick ones that are bottom-heavy so they are less likely to tip while you are on the road. Add stones to the bottom of the pot before you add the soil so it is bottom-heavy and less tippy. You can also put them on a shelf with a border to keep your plants from sliding off.
Make sure that they have drain holes in your pots, and put a saucer under each pot to minimize any mess you might make when you water them.
Like larger plants?
Large plants aren't off-limits when you travel. However, make sure that they are not too large to move outside, if that is what you want, once you get to your destination. And make sure you have a large enough drain pan though so you don't make a wet mess when you bring it in.
Give hydroponics a try
Since your garden will be small, you might want to try hydroponics–then you don't have to worry about soil at all (or the pests that come along with it). What could be better than pulling into your RV site, setting things up, then harvesting your dinner salad from your hydroponic garden?
Many plants grow well this way, especially edibles. Try growing different varieties of lettuce or plant some of your favorite herbs. While hydroponic systems can be a little complicated, there are many setups available. With good instructions, you can be eating your own homegrown romaine lettuce and using freshly cut basil and oregano to season your tomato sauce.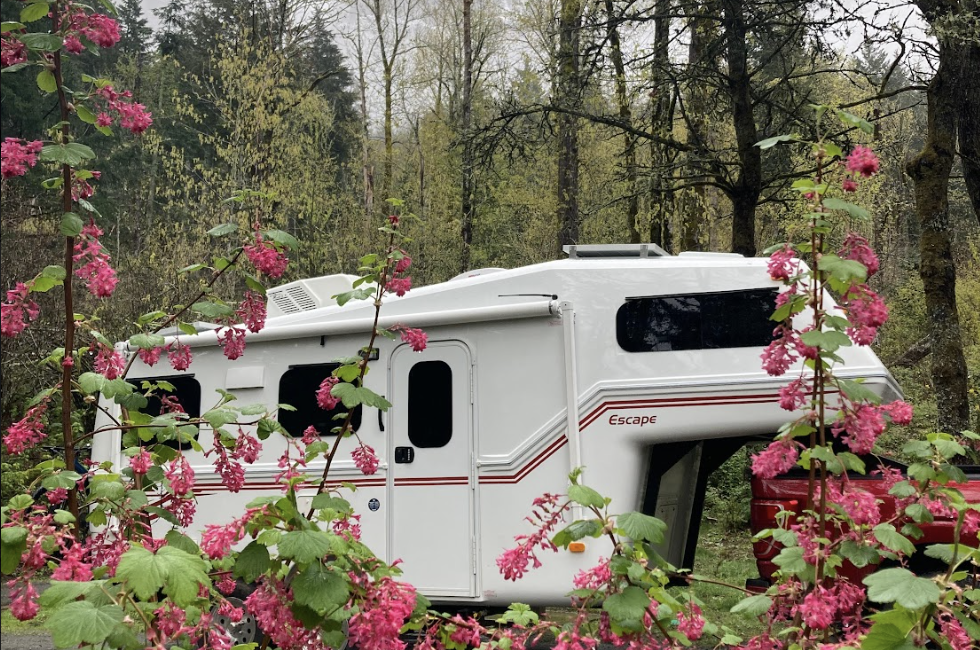 Plants that are good for your on-the-go RV lifestyle
Most gardening success, no matter the circumstances, is all about choosing the right plants for your condition. The same is true when you're on the road. So, before you pick up that random, but adorable, plant from the grocery, do a bit of research on its needs. Better yet, plan ahead and choose plants known to be good on the go!
Prickly, low-key travel companions: succulents and cacti
If you are looking for easy-to-grow plants that are low-maintenance and grow slowly, succulents and cacti are a great choice! Just keep in mind that these lovely plants like a lot of sun and may require a grow light.
Here are some cacti and succulent that grow well and are easy on the eyes:
Agave

Aloe vera

Barrel Cactus

Bunny Ear Cactus

Burro's Tail

Cholla Cactus

Christmas Cactus

Cobweb Houseleek

Crinkle Leaf Plant

Dwarf Jade Plant

Easter Lily Cactus

Flowering Kalanchoe

Frosty Morn Sedum

Hen-and-Chicks

Ice Plant

Mexican Firecracker

Moonstones Plant

Moss rose

Old Man Cactus

Orchid Cactus

Panda Plant

Pincushion cactus

Prickly Pear Cactus

Red Pagoda

Snake Plant

Zebra Plant

 
Give air plants a try on-the-go
There are hundreds of varieties of air plants that are decorative and easy to grow. How easy? Just mount them and give them a spritz of water about once or twice a week. They don't require soil, so there is very little mess, and many of them have beautiful blooms when that time comes.
Try some of the following:
Argentea

Brachycaulos

Bulbous air plant

Cacticola

Circinata

Cotton Candy

Druid sky plant

Dyeriana

Fuego sky plant

Kolbii

Loliacea

Mad pupper

Maxima sky plant

Peach Air Plant

Pink Quill plant

Whitestar

A healthy habit: veggies, herbs, and sprouts

If you are growing your own produce, you will probably want to grow things that don't take a long time to mature. Growing your own veggies and herbs from your RV can truly freshen up your meals and your diet!
Here are a few suggestions:
Cherry Tomatoes

Garlic

Lettuce (and just about any other salad green)

Peppers

Radishes

Spinach

Strawberries (Not a veggie, but easy to grow and delicious)

Herbs are easy to grow and you don't have to wait too long to enjoy them. Here are a few to try:
Anise

Basil

Chamomile

Chives

Cilantro

Oregano

Mint

Parsley

Rosemary

Thyme

 
Don't forget sprouts. They are very nutritious and you can enjoy them in a matter of days. You can make or buy kits that make growing sprouts simple and easy, and it only requires a few minutes each day. Give the following a try:
Alfalfa

Bean

Broccoli

Buckwheat

Clover

Cress

Mung bean

Pea

Radish

Sunflower

Wheat
That green glow: flowers and greenery
Want to spruce up your RV? What does more than a few plants? You have a wide variety to choose from. Some produce flowers, others have beautiful foliage. All you have to do is decide what you would like:
African Violet

Air plants

Anthuriums

Begonia

Boston Fern

Chinese Evergreens

Copper Spoons

Kalanchoe

Lucky Bamboo

Hydrangea

Peace Lilies

Peperomia

Philodendron
Go Far. Go Green. Grow on the Road.
Whether you want to enhance the beauty of your RV, add a few home-grown veggies to your diet, or just personalize your space, pick out the plants that work best for you and take them on your next road trip. You will find that they are easy to care for and add a little more quality to your life on the road.
Looking for other ways to spruce up your RV? Turn your travel trailer into your beautiful home away from home.
To receive our newsletter by e-mail, please click the "Subscribe" button in the footer below.