5 Benefits to Choosing a Small RV
Trying to decide what size RV best fits your needs? Lately, the choice is clear: smaller has become a better option in many ways.
The pandemic has created a flurry of outdoor activity. With it, outdoor enthusiasts are finally deciding to buy RVs and take the trip of their dreams cross-country. With the influx of happy hikers and mountain-bikers came an increase in RV sales, and limited campground spaces. Smaller RV's give you a competitive edge when it comes to vying for space in the most popular campgrounds and more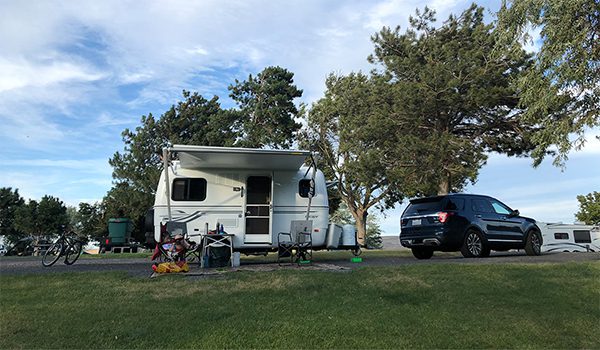 What makes a smaller RV a big win for your adventures?
1. More campground options
It's no secret that Moab, UT, Sedona, AZ, and Banff Alberta are some of the most beautiful places to camp. Between the nice weather in fall and spring and the outstanding red-rock formations that lift up from the landscape, or the turquoise lakes it's no surprise visiting places like these is in high demand.
It can be difficult, if not impossible, for a large RV to trek up those rocky mountain roads and find a home for the night with a breathtaking view. However, a lighter-weight RV can easily find a spot in North America's most sought-after parks and natural attractions.
2. Driving with greater ease
Don't let the bumps in the road stop you from making the most of your adventures. With a small RV, you can trek to new heights and experience spectacular views. Not only are smaller RVs easier to park and drive, but they allow you to get around with confidence. Plus you can journey up and down mountain roads that might be impassable in a larger RV.
Don't get stuck with a difficult-to-trailer RV
If you purchase a large RV, you may need to purchase a vehicle with a larger engine to tow your trailer. No one wants to get stuck with the burden of a travel trailer that their car cannot safely handle. When you set your sights on a cozy RV, you will find the fun escalating to new heights without the expense and hassle of getting there.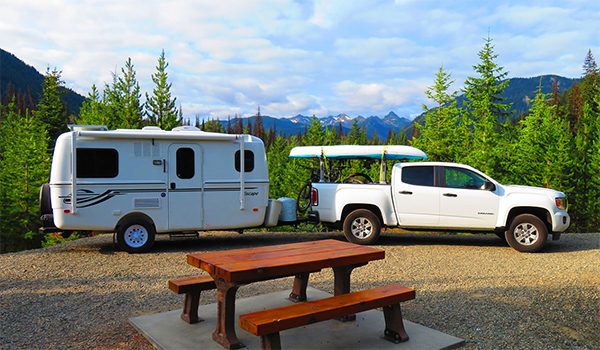 3. Downsizing your belongings & streamlining your life
As Henry Thoreau said, never be "harassed to death to pay the rent of a larger and more luxurious box." Going on an excursion in your new rig helps you break out of the everyday life you've come to know. 
With a smaller travel trailer, you're not going to have an extra-large kitchen, bed, or living space. Instead, you'll get to focus on the experience. When you simplify, you can embrace the excitement of new sites, set up campfires, see shooting stars as you brush your teeth, and feel the morning's breath as you take a sip of coffee without being weighed down by material belongings.
Bringing along fewer belongings gives you greater freedom on the road. You'll have less to clean, organize, and pack each day. Only bringing the absolute necessities absolves you from trying to use extras that you brought along and didn't need. You'll find great gear stores and rentals that can help you in a pinch, too.
4. Saving money & the environment
Driving long distances to your destination, through National Parks, and up steep roads can quickly eat into your travel budget. In a small RV, you save more money in the long run because you:
Enjoy better aerodynamics

Have less weight to tow

Can park overnight at a wider range of sites (including less expensive ones)

This results in a lower fuel bill, too. And that's not just good for your budget, it's great for the environment, too.
Preserve your budget for better things
When it comes to your budget, don't you want more money for fun activities? Smaller RVs equal big savings. You can use your budget for fun nights out with family or out on the town with more experiences and less waiting in line to get fuel.
Having extra padding in the budget will help you save for any unforeseen circumstances too. You never know when you will get a flat fire, need mechanical work on your RV, or want some extra spending money for souvenirs. Traveling costs money no matter what, but when you save for experiences, the cost feels much more worth it.
5. Making boondocking & off gridding possible
If you're wondering what boondocking is, it's camping off-grid without access to plumbing and electricity. The best way to boondock is in a compact and efficient RV. Throughout the U.S. and Canada, you will find a swath of land called BLM (Bureau of Land Management) land and other areas where you can boondock if you have the right RV. It's often free, and they make it easy to find maps of the region online, to help plan for your outdoor excursions.
6. Providing greater mobility and versatility
With a small travel trailer, you can detach your trailer and quickly run to the store or on another errand. And when you return, it's much easier to hitch back up. As for where you can park, you'll find that you have greater access to campsites since backing in a smaller travel trailer is much simpler.
If you've never driven up a steep and narrow road before, then it would be a truly harrowing experience in a large RV. The handling in an RV is already difficult because of numerous blind spots, but with the added weight on the rear-end, it can be impossible to get a large RV up a rocky path.
Small RVs reduce the stress of towing by being more maneuverable. Smaller vehicles usually get better views as well. This is because long vehicles get designated spots far away from the edge of a vista Why? No one wants a big rig to back off a rock.
7. Storing a small RV is a cinch
Once the adventure ends, you need a place to park your travel trailer. When your RV takes up less space, you wind up with more choices of where you can park it. Self-storage facilities for RVs often have limited spots for massive trailers. On the other hand, they often have plenty of room for petite RVs.
Some pint-sized RVs can also fit neatly into your garage–which is great because some HOAs do not allow residents to park their recreational vehicles in sight.
If you're planning to build a freestanding carport, you can plan for a smaller footprint and smaller budget, too. 
Begin the decision-making process by sorting out your priorities
Choosing an RV or trailer doesn't need to be a difficult decision. On your search for perfection, think of what your priorities for purchasing may be. If they are
finding a great campground every night

driving more easily

less onus on what to pack

more affordable gas prices

living off the land in style

then a compact RV and or trailer might be just the thing you're looking for.
Find your ideal, compact travel trailer
When on the hunt for the perfect RV, look for one that provides just what you need in a compact package. Your travels don't need to be littered with worry or flat tires. When you find a company that is trustworthy, reliable, cost-efficient and that has customers in mind you'll understand why smaller is often better. 
Escape the daily routines and experience the outdoors in a trailer that'll take you places you never imagined.
To receive our newsletter by e-mail, please click the "Subscribe" button in the footer below.