Are Fiberglass Trailers Better? 9 Reasons You WON'T Regret an Escape Trailer
You may have heard that RVing is not all it's cut out to be. You may have even reconsidered living your dream of seeing the country, traveling, and reconnecting with hobbies you once loved. Well, if you haven't considered an Escape fiberglass trailer, you may want to reconsider your RV choice. Why? Escape Trailer offer solutions to the most common complaints people have had about their travel trailers.
Still skeptical? Here are 9 reasons why some people think they may regret RVing and 9 reasons why a fiberglass trailer from Escape eliminates these concerns.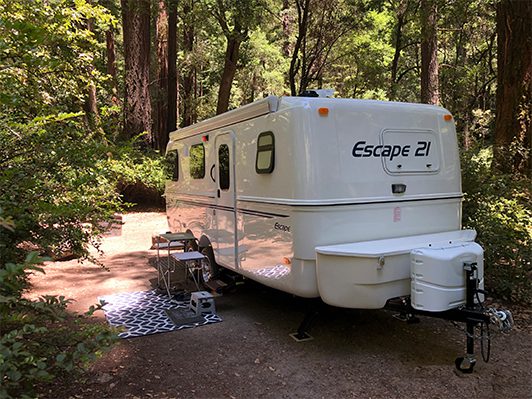 1. "Your RV will depreciate in value, making it a bad investment"
Investing in an Escape Trailer protects your nest egg better than other RVs. Why? First, fiberglass trailers hold up better over time. Second, Escape travel trailers have an excellent reputation for keeping their value because of their durability, classic designs, and smart layouts. Third, selling direct-to-customer eliminates the initial depreciation you find with RVs purchased from dealerships. 
In fact, many Escapees receive their travel trailer's purchase price after five years of owning it. We're so confident in the quality of our trailers, even after years of use, that our website features a free listing service for pre-owned Escape trailers.
2. "Travel trailer are gas guzzlers"
Non-fiberglass travel trailers do weigh quite a bit, which requires more fuel to tow. However, we use fiberglass which is lighter and allows for improved aerodynamic performance. These characteristics reduce the amount of fuel you need to travel.
Aerodynamics
Building a trailer shell in a mold allows the builder to create a much more aerodynamic shell. Because a fiberglass RV slips through the air more effectively, it has less drag or wind resistance. This allows your tow vehicle to get better gas mileage and causes less strain on the engine.
In a crosswind, there is less square footage for the wind to hit, so a smaller trailer will be more stable as well, making driving easier and less nerve-wracking, especially when an afternoon thunderstorm starts to buffet your tow vehicle and trailer.
3. "RV repairs can be costly."
Nothing frightens potential RV owners more than the idea of repairs. This is unknown territory for most new RVers, after all. But with minimal maintenance on a fiberglass trailer, the risk of costly repairs is only a fraction of the potential with non fiberglass travel trailers. 
Fiberglass RVs are the best RVs on the road for low maintenance. Fiberglass shells require very little effort to keep looking new. What does it take to keep a fiberglass trailer sparkling and in tip-top condition? Just wash when needed, then apply a coat of wax twice a year.
Furthermore, fiberglass shells are stronger than the alternatives. Molded fiberglass results in a much sturdier shell. As you drive, a fiberglass shell will flex less than metal and wood shells. This flexing can cause the walls, roof, and floor to deform slightly on non fiberglass travel trailers as they age. This eventually causes leaks and other problems. Furthermore, the seams between the walls and roof, around the windows and door can all spring leaks.
The stiffness of the fiberglass means that your molded shell will not have the same issues. Less flexing means fewer leaks and a nicer trailer as it ages. And this also results in better resale value.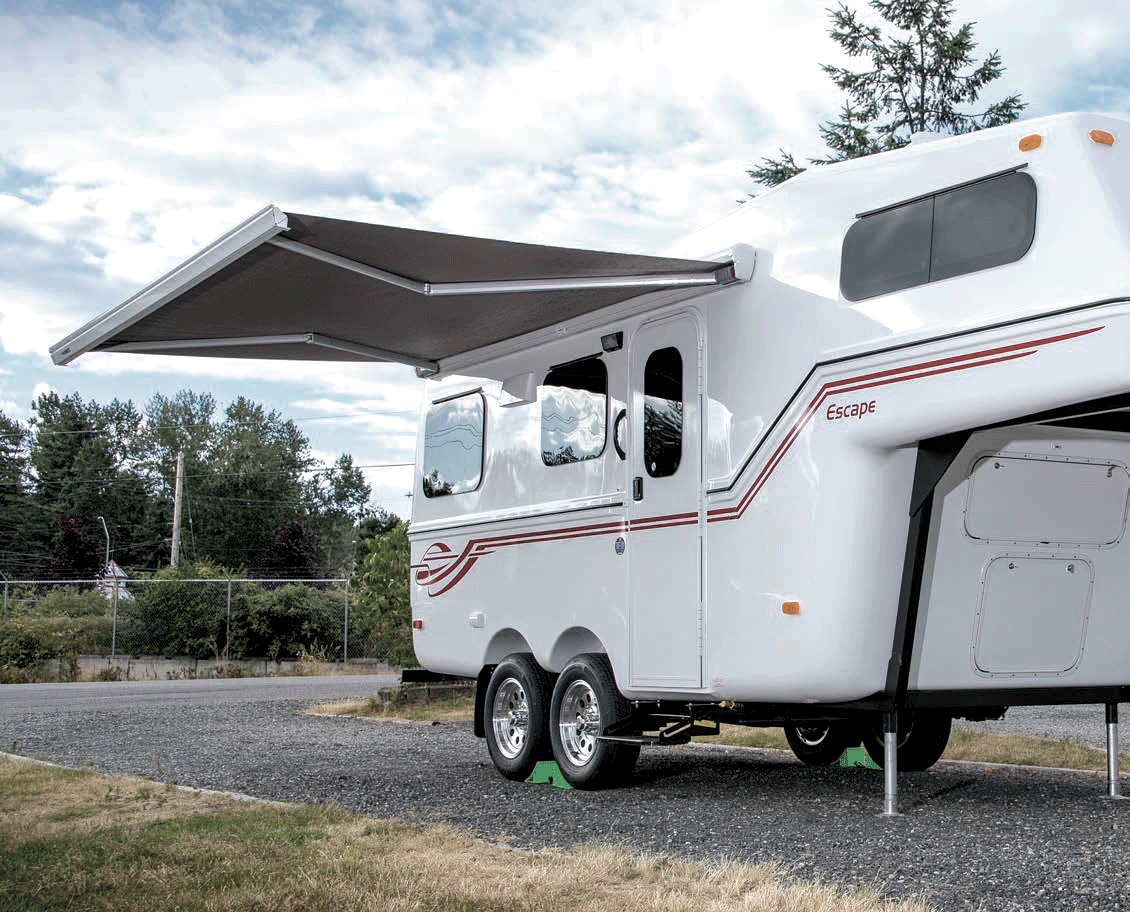 4. "Extra axles = extra driving hassel."
Keeping our customers safe on the road is our top priority. Escape also deeply cares about Escapees feeling confident and comfortable on the road. To make towing an Escape trailer easier, Escape offers dual-axles on four of our six models and anti-sway bar hitches, too.
Fiberglass RV shells are also more aerodynamic, reducing drag and the effects of cross drafts while you're on the road. 
5. "Travel trailers are a source of dangerous formaldehyde."
Formaldehyde is a concern for many people. Luckily, Escapees can worry less since Escape is the leader in customization, you can choose your own fabrics, including formaldehyde-free choices. 
You can also breathe easy in an Escape RV since we offer solar panels and inverters. With solar panels, you can use your outlets anywhere and everywhere, with your air purifier and other electronics.
6. "You can't avoid excessive dust, dirt, and water issues."
For those that cannot stand dirt, dust, and bugs, a one-piece fiberglass travel trailer is a must. Escape Trailer has one seam at the center point that is fiberglassed and sealed, so your RV is free of weak points where dirt, allergens, and creepy crawlies can get in.
To top it off, fewer seams offer fewer access points for water intrusion. 
Even as your trailer ages, there will be little, if any, deformation, meaning that the windows, doors, vents, etc. will remain dry and intact, as well.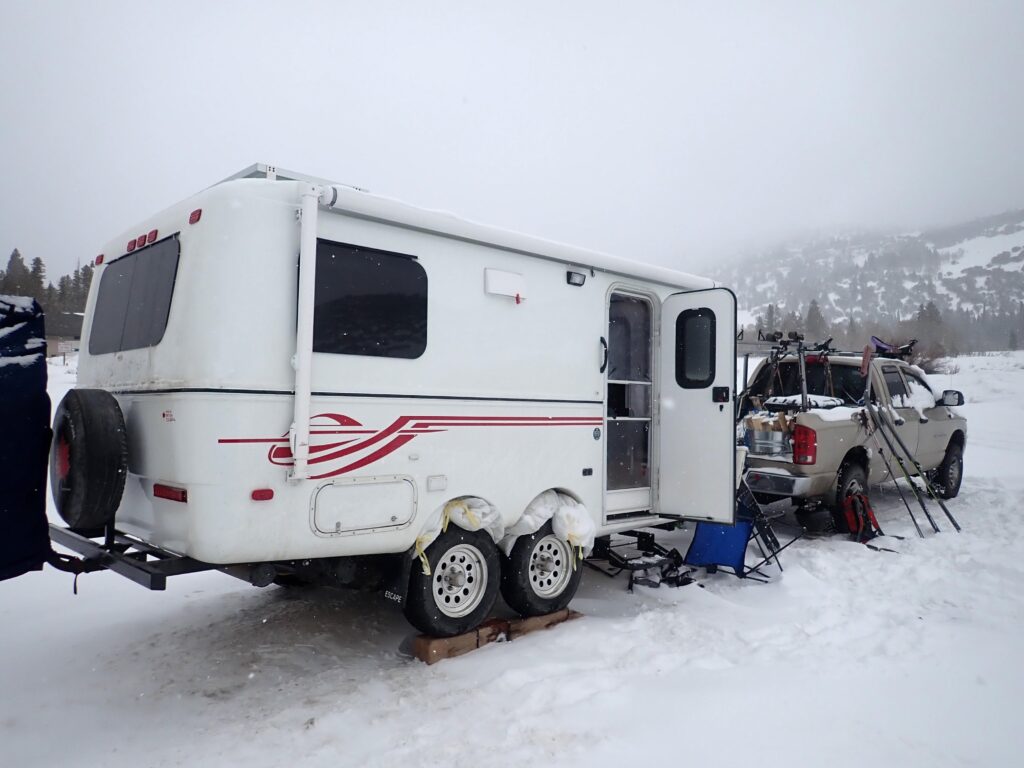 7. "You won't be able to sleep with the noise and cold."
Fiberglass trailers are better at keeping you protected from the cold, heat, and sounds compared to non fiberglass travel trailers. Why? Fiberglass is a much better insulator than metal. 
So, your fiberglass trailer will stay cooler in the summer and warmer in the winter. This is great because you will use less electricity or propane to maintain a comfortable temperature. 
This is more comfortable for you and quieter because the AC and heater run less. There's also the added bonus of the lower cost of utilities.
Your fiberglass trailer will also be quieter. Not only does fiberglass construction improve thermal insulation, but it will also insulate you from outside noise. The shell absorbs sound more effectively than other materials, so you won't hear every little noise that the family in the campsite next to you makes.
Even on the road, silence is golden.
8. "An RV Is Too Pricey"
While many RVs can come with a hefty price tag, Escape travel trailers allow you to keep a lot more money in your pocket. We sell directly to our customers, cutting out the middleman. This means there is no dealer or distributor taking their cut from the overall price of your RV.
Furthermore, our fiberglass trailers offer a manageable towing size and weight as compared to non fiberglass travel trailers. Less weight means a greater choice of tow vehicles. This means you may be able to use your current vehicle to tow your new fiberglass trailer, saving you the cost of buying, insuring, and maintaining another vehicle.
9. "You Will Spend More on Decorating and Interior Fabrics to Make It Your Own"
An Escape trailer is anything but cookie-cutter. We work with you to personalize your RV from the get-go. You can choose from unlimited fabrics, countertops, and flooring. This means you can choose nearly all finishes, making the finished product your true home-away-from-home without added expense.
Plus, because personalization and customization are built into our process, you won't have to spend an arm and a leg on renovations and contractors. And you will wind up with an RV that you will love for years and decades to come.
Choosing the best RV for now and later
As you look at RV trailers to purchase, you will find a lot of options, and making a choice can be difficult. Luckily, molded fiberglass trailers offer equitable and practical benefits. From better gas mileage to a quieter retreat, a fiberglass travel trailer is a great option. 
Additionally, don't overlook the social side. You will have one of the most attractive trailers wherever you go, and you will constantly have people asking you questions about your rig. Plus, you will find groups like the Escapees that will welcome you and share your love of fiberglass shells.
With a fiberglass shell, you will have many happy and fun years exploring the road, enjoying the new scenery as well as the people you meet along the way.
To receive our newsletter by e-mail, please click the "Subscribe" button in the footer below.