How to Eat Healthy on the Road & Store Your Food
It's easy to lose momentum with your healthy lifestyle when you hit the open road. Discovering new restaurants, unfamiliar foods, having constant access to a kitchen, and being on an irregular schedule, can make eating healthy a challenge. Luckily, it can be a little easier if extra effort is made to guide your appetite. 
Here are our favorite ways to making your on-road meals healthy and equally tasty: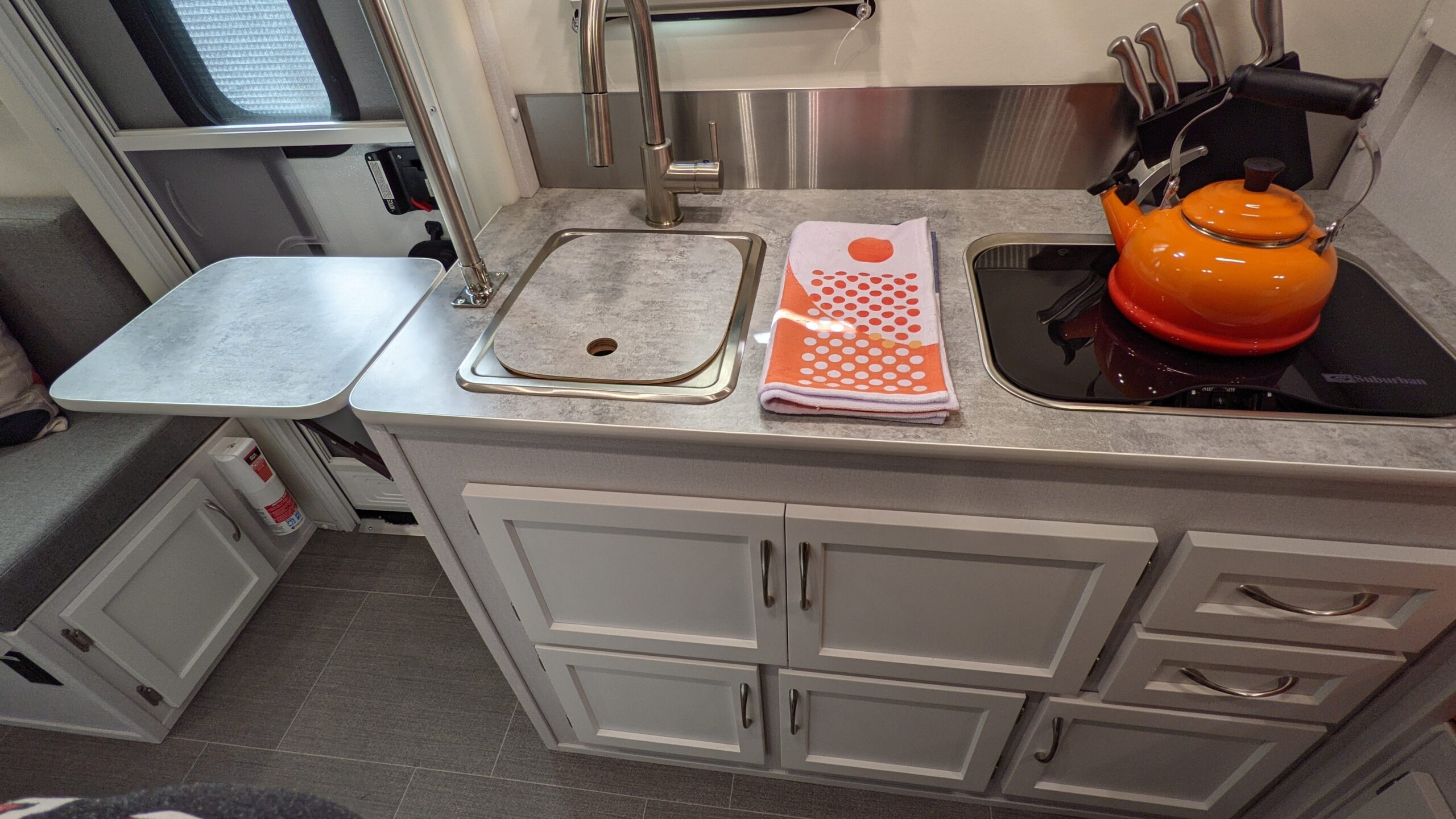 Bring snacks that help you make better decisions
After a strenuous hike, such as Devil's Garden in Moab or Lake Apopka in Florida, the last thing you're thinking of is eating healthy. If you bring along snacks, such as trail mix, protein bars, fruit, among other filling alternatives, you're less likely to be starving when you leave an exciting activity. 
When hungry, it's easier to gravitate towards unhealthy food choices. You can justify it by saying, "I just hiked 5 miles! I deserve the steak and the molten lava cake." And while you're not wrong — if you were to follow this method the entire trip, you may have an unpleasant scale surprise by the end of it. 
Try some of these protein-filled snacks:
Nut butter 

Beef jerky

Meat and cheese packs

Or indulge in a sugary or salty snack like:
Fresh or dried fruit 

Dark chocolate

Pretzels

While it may seem that sugary snacks are a less-than-healthy option, opting for healthier sugars, such as honey, cane sugar, or maple syrup, in moderation can satisfy your sweet tooth without the need for an entire desert. And they can get you the energy and sustenance you need to endure a long day outdoors
Limit portions & eating out
Even when you're traveling, eating out should be seen as a rare treat, especially if traveling is your new lifestyle. If you have to eat out because you're meeting friends or family or are too exhausted to prepare a meal, think about the foods that will help you stay energized and feeling good.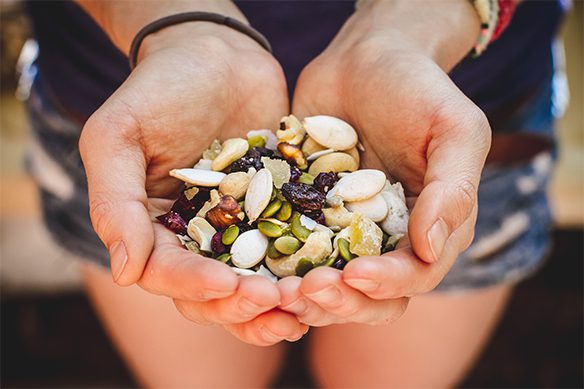 A great choice for most diets
Beans and chicken offer healthy protein options after a lot of physical activity. If you're looking for extra fat or your diet requires more fat, steering towards nuts, salmon or red meat is a good choice. Always have a large side of vegetables, protein to maintain energy outdoors, salad, and carbs too – or whatever your diet consists of. 
Fruit and dark chocolate offer great evening desserts when you're looking for something sweet and satisfying. 
Paleo-friendly options that are easy-to-make on the road for energy
Grass-fed meat jerkies (chicken, beef, turkey, or pork)

Boiled eggs

Fruit

Almonds

Cottage cheese

Oatmeal

Yogurt

Quinoa

Keto-friendly foods that are convenient on the road for energy
Bacon

Unprocessed cheeses

Eggs

Sugar-Free Jerkies

Almonds

Avocados

Spinach, broccoli, peppers

Dark chocolate

Vegan choices for an easy boost of energy on the road
Avocado

Fresh fruits such as kiwi, bananas, apples

Leafy greens

Oatmeal

Rice

Quinoa

Tofu or Tempeh

Lentils & beans

Homemade trail mix
'Staying in' helps you stay healthy
Preparing food in your trailer, van, or converted vehicle, makes healthy eating a lot simpler! You can control what groceries you buy and how much food to serve yourself and your travel partner. 
Of course, overeating can happen 'at home,' too, because you'll have the option of serving an extra portion. To make it easier, portion out an additional meal for the next day before eating, that way you have leftovers to look forward to.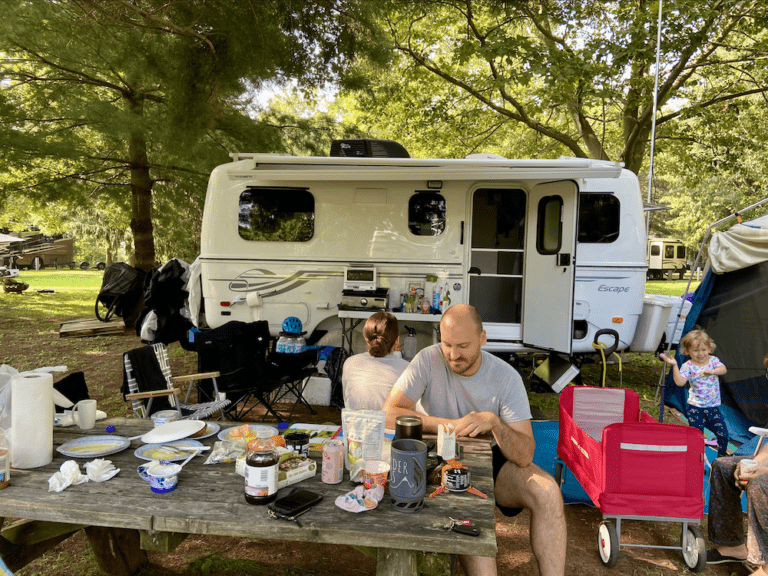 Switch to healthy fats when cooking
Use fats that remain in a liquid state when they're in the cupboard. Making the switch is a simple way to healthify your food when cooking while providing you with more benefits than other fats would. Olive oil is shown to be heart-healthy. While it is still high in calories, using it in moderation to make your food will make all the difference.
Instead of using butter, opt for
Olive oil

Flax oil

Avocado oil

Sunflower oil

Make good food choices while shopping
The saying is always true that you shouldn't shop hungry! You're more likely to buy more food than you need while even allowing yourself more leeway with unhealthy foods. Once you buy something unhealthy and have it with you on the road, it makes resisting impossible. Shop smart.
For smarter grocery shopping, pick up:
Lean meats

Beans

Tofu

Vegetables

Fruit

Avocados

Nuts

Electrolyte-filled beverages

You don't have to skip dessert
Desert alternatives allow you to indulge in when you're driving long distances or stopping for a breath of mountain air.
Healthy food doesn't have to mean you're depriving yourself of anything good. Eating a bowl of chili or a plate of salmon can be just as satisfying as having a bowl of spaghetti. There are healthier pasta alternatives available, such as spaghetti squash, zucchini noodles, or edamame pasta. Covering it with homemade tomato, pesto, or alfredo sauce will feel like a luxury, instead of a restriction.
How to properly store food in your RV or on the road
Equally as important as what you eat while traveling is how you store your food. Without careful consideration, your food can spoil or create a mess. The last things you want while on the road are becoming ill from food mishandling or wasting costly food. Getting in the habit of proper storage techniques can help you avoid both of these–and make cooking on the road easier.
Never leave food outdoors
Keeping your food secure is a great way to protect yourself, your fellow campers, and the animals that live nearby. When you park at your campsite, be mindful of what you do with your food. Please do not leave food unattended at your campsite–this can be a nuisance to campsite works, your neighbors, and create a disaster for wildlife.
Never leave food, water, trash, fecal matter, or unwashed containers outside your tent or camping vessel. These items can attract bears or small critters that shouldn't be consuming what humans do. Nor should they come in contact with our waste.
Where should you store your food?
Store food in your fridge, cooler, camper, hanging bear bag, or bear box. Some campsites, often at bear-heavy National or State Parks, provide bear boxes at every campsite for your convenience and safety.
Pay attention to the rules
Every park and region has a variation on the protocol they follow. So, make sure to check with your park ranger before leaving on an adventure or before going to bed.
Eating on the road can be easy, enjoyable, and efficient
Eating should always be enjoyable and rewarding, even when you're thinking about what to consume while on the road. At first, it can be difficult to follow nutrition rules and form organizational habits. But like with everything else, eating right will become a routine that you love to follow. So, find those foods that are healthy, easy to cook, and make your mouth water. Store them safely. And make meals and memories that will last your lifetime.
Enjoy your travels with the right food to fuel you!
To receive our newsletter by e-mail, please click the "Subscribe" button in the footer below.