5 Tips for Preparing Kids for Camping in an RV
You'll find getting your kids ready for travel trailer camping is easy with these simple tips.
One of the best things about kids is they're always up for an adventure. They love the excitement of hitting the road, exploring nature, and spending quality time with their families. And children make RVing better for the adults that love them, too. Watching kids take in all the enriching experiences of trailer camping makes Escaping in a travel trailer even better for adults, as well. Yet getting the little ones ready to hit the road can come with extra preparation.  If you're preparing your kids or grandkids for trailer camping, be sure to plan on using these tips to make the process easier.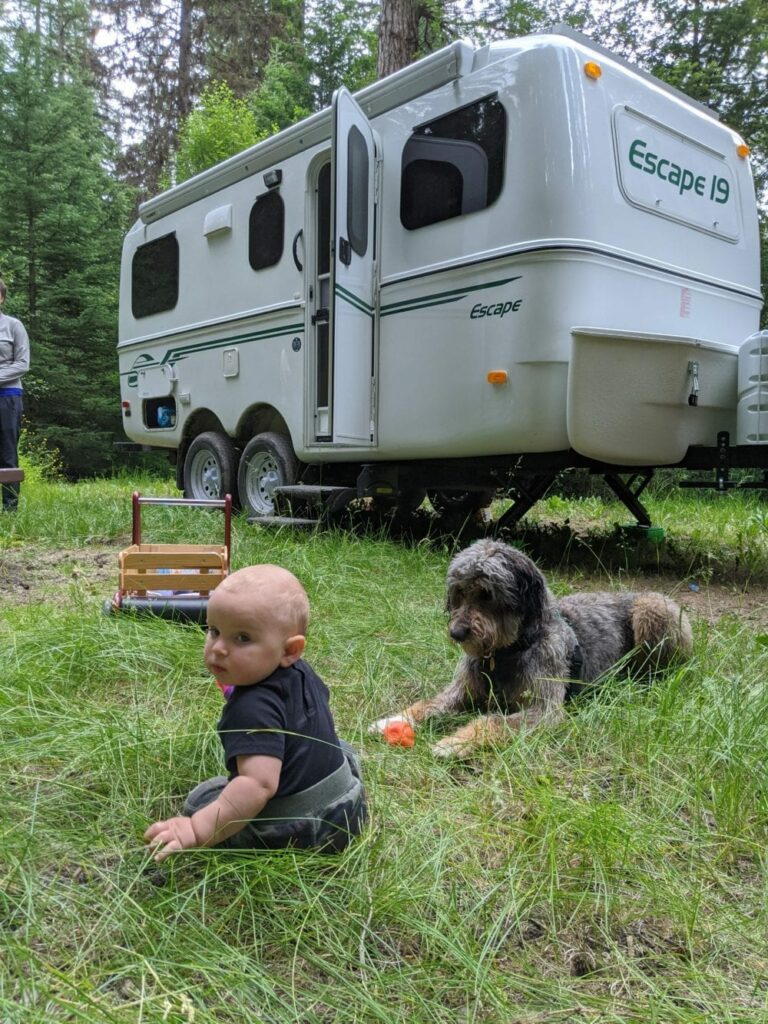 1. Get them excited for the trip
Whether your kids have been tent camping or trailer camping before, you will want to make your upcoming trip unique and novel. When announcing your upcoming travel trailer camping trip, engage your little one's imagination with books about RV camping. 
After your kids read books on camping, gift them with a camping journal (great for older kids!) or a nature activity book. If your upcoming RV trip is more about road tripping and exploring cultural sites, a travel journal gives them the opportunity to record their favorite memories and stops.
Kids books that pair well with travel trailer camping

Camping journals and activity books that kids love: 

Kids travel journals and activity books that work well for road trips

For kids that love to get hands-on and for those that have never been on a travel trailer camping trip, let them get used to some of the staple equipment at home first. Consider letting your little one explore the backyard with a lantern or flashlight or try on their camping gear and go on a mini-adventure around the neighborhood. Not only does this get them prepared, but it also increases their anticipation and excitement for the upcoming trip.
2. Encourage them to make the experience on their own
Kids love to be heard and involved in planning. Before finalizing all your trip plans, let the kids have a say in some of the decisions and planning process. Of course, you will want some pre-selecting choices, otherwise, you will wind up at the North Pole or Disney World. But letting kids be a part of the plan makes them feel important and gives them some ownership over their adventure. 
Consider letting the kids:
Set Goals: Have the kids pre-journal before you leave for the trip. Consider having them write about what they hope to learn, do, or accomplish. Remember to encourage them to think about personal growth and character building. For example: "I hope to get along with my brother for the entire trip."
Stops: If you're traveling some distance to get to your destination, let the kids pick one or two of your pitstops. 
Snacks: Bringing along road trip and camping snacks is a no-brainer, but letting the kids select from a limited list of options will lower the chances of "I don't want this" and helps the kids feel included.
Don't forget to plan activities for rainy days, as well.
3. Sit the little ones down for a safety talk
Before you leave home, a safety talk is a necessity. Be sure you go over the dos and don'ts of rest stops, traffic, and camping. 
You will also want to come up with an emergency plan if the little ones get separated from you on a hike or at a historical or cultural site. This should include, only talking to employees at a site along with going back to a trailhead and waiting–do not leave the trailhead with a stranger. Keep in mind cellphones may not work in some locations.
If you're planning any adventure activities, like canoeing or fishing, be sure to go over the safety rules for these, too. 
Encourage the Kids to Assist in Preparing Your First Aid Kit
One of the best ways to introduce kids to your first aid kit is to have them check it with you before restocking. Going over what's in the kit and what you need to add gets children familiar with the items and their uses. 
4. Keeping the routine consistent
Preparing kids for trailer camping is the tip of the iceberg in the joy and excitement when it comes to the trip, but you will want to be sure you and the kids are prepared to stick to important daily routines.
Try to keep bedtime and meal times consistent. It's a great idea to have the kids participate in chores for keeping the travel trailer clean and orderly. If your kids are missing school, be sure to set aside time to account for schoolwork and learning.
Communicate the rules and expectations before you hit the road.
5. Prepare a kid-minded packing list 
When prepping for your trip, you will want to purchase any new gear that your kids may need two-to-three weeks in advance. This gives you time to ensure everything fits well (and can be exchanged in time if it doesn't). It also allows enough time to have kids break in hiking boots or new shoes (kids + blisters = no fun). 
Because kids can be uninhibited about getting hands-on and diving into nature, you will want to pack more outfits and socks than you would for yourself.
Remember to keep the elements and weather in-mind and include bug spray and sunblock.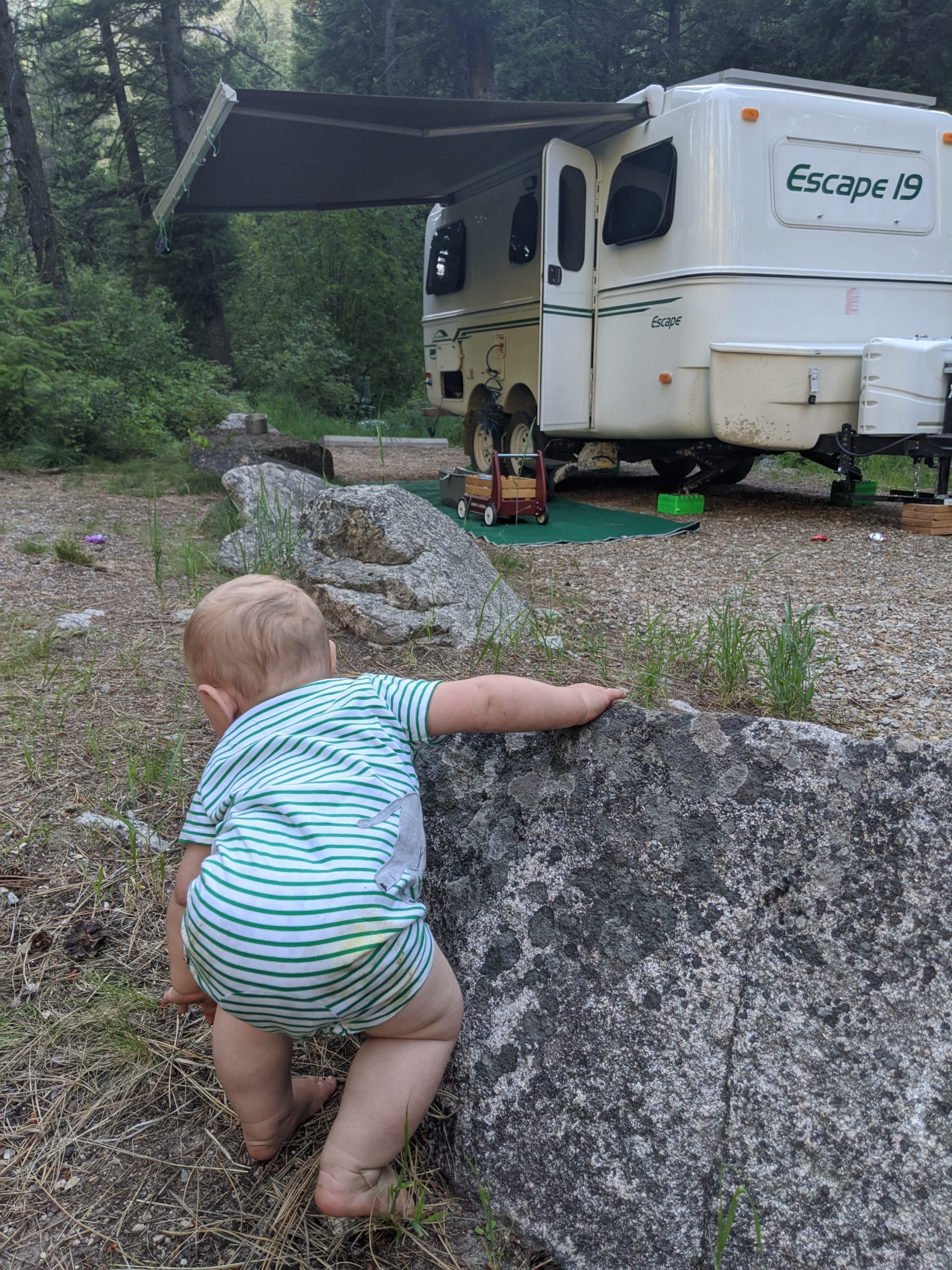 Don't delay. Plan for your next kid-friendly trailer camping trip today!
Remember that trailer camping is an adventure for the whole family. When preparing kids for trailer camping, start early and don't forget the s'mores! You will also want to take plenty of photos of the kids for the future and plan plenty of nature activities the whole family can enjoy.
Hit the road in a travel trailer fit for the whole family. With an Escape Trailer, you will have peace of mind knowing that the whole family is safe, and with plenty of personalization options, everyone will have exactly what they need to have the time of their life. Find out more about how a personalized Escape Trailer can be the perfect choice for trailer camping with kids.
To receive our newsletter by e-mail, please click the "Subscribe" button in the footer below.