Are Egg Campers All They're Cracked Up to Be?
Are you looking for a new home away from home? A personal place with a little more privacy and a bit more affordable than large RVs? An egg camper may offer just what you're looking for. It's easy to see why these petite campers are making a major comeback. They're smaller and lighter, require less maintenance, and can be more affordable than other RV options on the market. Trying to decide if an egg camper with the best choice for your home on wheels? Here's what you need to know: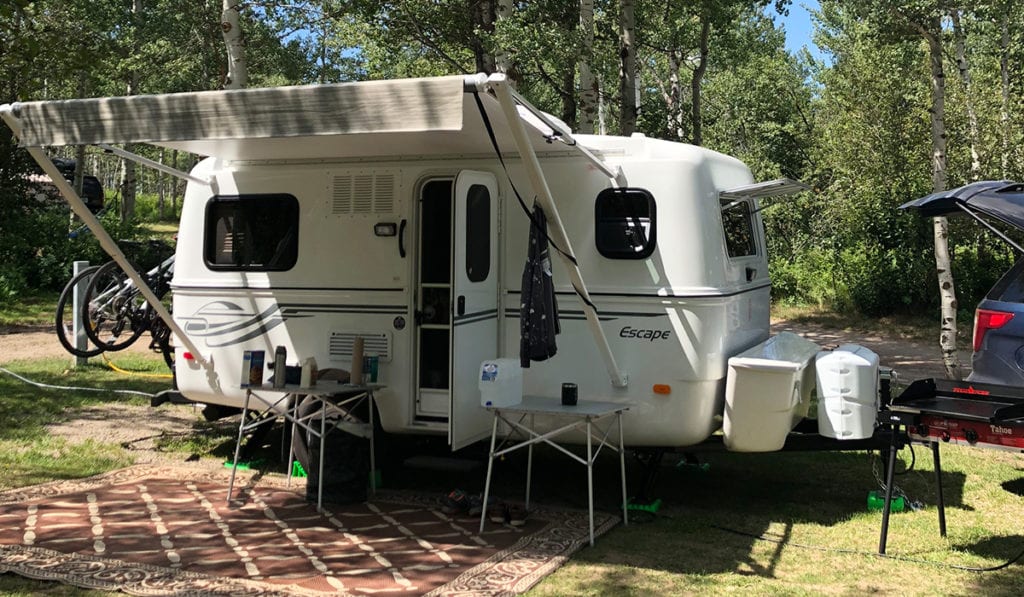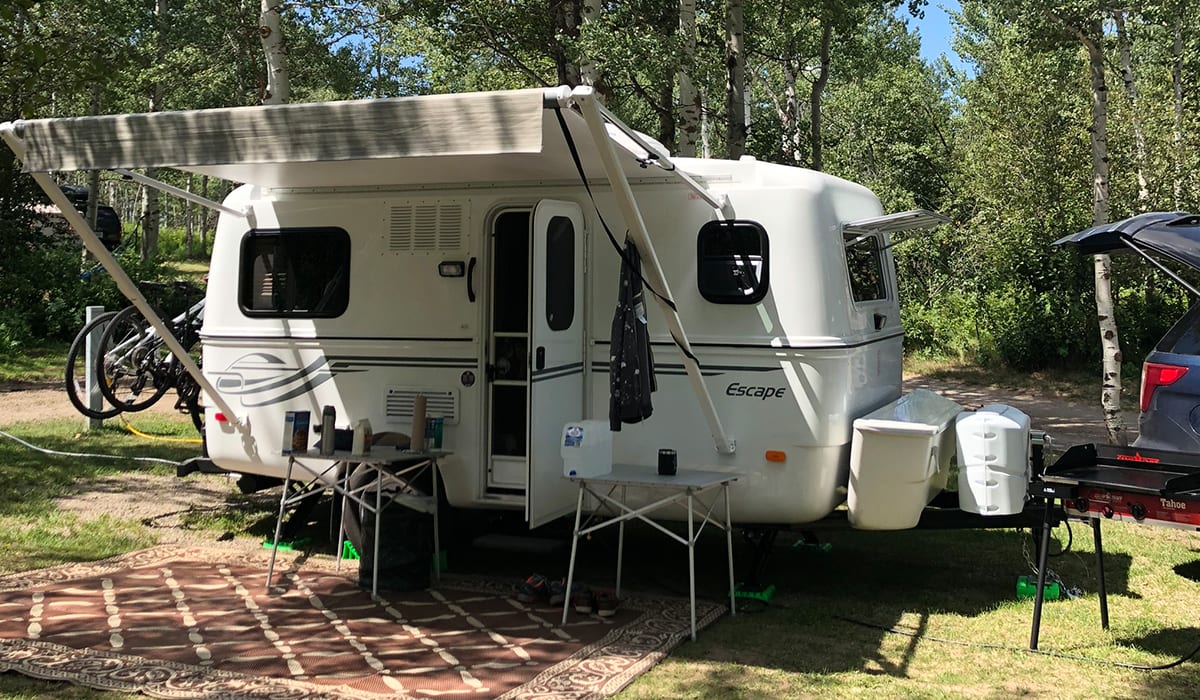 What Is an egg camper? 
To put it simply: an egg camper is a travel trailer that looks like an egg, similar to the Escape 17A and 17B. They aren't the square, boxy campers that are pulled behind big pickups–they are smaller and lighter campers, with fiberglass shells that can be pulled by mid to full-size cars, as well as trucks. 
Many of the newer designs are made with a bottom and top shell two parts and fused together with fiberglass in the middle making a solid one-piece shell. This makes them both light and watertight.
What are the perks of this pull-behind travel trailer?
Vintage appearance with modern amenities
Do you like the retro look of an Airstream but not the cost and weight? Many of the new egg campers look like they are out of the 60s or 70s. With a modern egg camper, you get the distinctive retro shape with all the modern conveniences and quality of a brand new camper. These smaller pull-behinds elicit quite a bit of attention as you cruise the interstate or tour down back roads.
Longterm affordability
While the initial purchase price of a new egg camper may seem high, that is not the entire story. With many larger campers, you might need to buy a tow vehicle just to pull them. The egg camper weighs between 1,400 – 4,000 pounds. Whereas, the average travel trailer weighs about 5,400-pounds. So, when you purchase a larger RV, you not only have to buy the camper, but you have to purchase and insure the tow vehicle, as well. And once you add the upkeep and fuel costs of a larger travel trailer, it's easy to see the egg camper is quite the steal.
Fiberglass shell offer eggcelent weather protection
The shell of egg campers is made of fiberglass, so it is lighter than other campers. Fiberglass also performs better over the years since fiberglass will not deteriorate like aluminum shells.
There are fewer seams in the egg camper's fiberglass shell, so there are fewer places to spring leaks. And water sure can put a damper on your adventures. Few things can damage your travel trailer investment faster than a leak. Water seeping in every time it rains will quickly ruin any wood furnishing inside. It can also damage your wiring as well.
Other perks of a fiberglass shell include:
Better sound dampening

Improved flexibility during travel

Easier to clean than aluminum

Hail-proof

Better resale value
What you give up by going small
While not impossible, it isn't hard to find an egg camper with a workable kitchen, bathroom, and adequate size bed. While the Escape 17B and Escape 19 have bathrooms, sinks, and cooktops, most egg campers do not. This means you will have to plan accordingly and likely camp in sites with bathroom facilities that include a shower.
Camping doesn't mean you have to deprive yourself of life's comforts, but you might have to limit clothes, shoes, kitchen appliances to things that you really need. However, you can find fiberglass trailers with all the bells and whistles in a compact size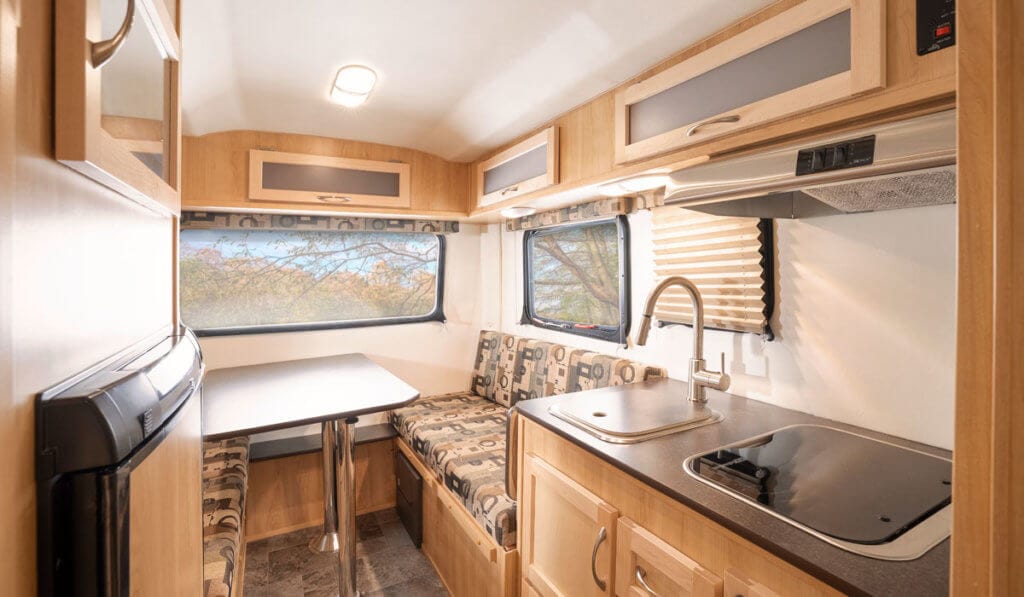 The egg camper's size: a pro or con?
Many people think that egg campers are too small, but this isn't necessarily true. Egg campers usually run from 12' to 24'. And you may be surprised how much you can get into such a small space. When properly planned and designed, every cubic foot of space can be fully utilized. So, you, your partner, and your furry four-footed friend will have plenty of room. 
Just remember, as you prepare, ask yourself if you need every item or just want them.
Finding the right travel trailer for your needs
There are a number of companies that have made and currently make egg campers. Some are vintage while others are made to look retro. Many egg campers are made to look futuristic, as well. When all is said and done–the choice is yours. Keep in mind that egg campers and other fiberglass trailers are often easier to tow and hold their value better than most conventional choices.
Looking for an egg travel trailer with a bit more room along with a propane stove? Check out the compact, lightweight, and attractive Escape 17A or Escape 17B for a bathroom.
To receive our newsletter by e-mail, please click the "Subscribe" button in the footer below.