How to Camp in an RV During Winter
Camping in winter can be difficult. You're fighting the cold, bringing extra accessories to accommodate the weather, and you spend less time outside because of the temperatures. While it is more work to camp in your RV during winter – it's certainly worth it. Between all the fun winter activities you can do, such as skiing, sledding, snowboarding, snowball fights, and roasting marshmallows, camping in the winter won't be an experience you'll soon forget.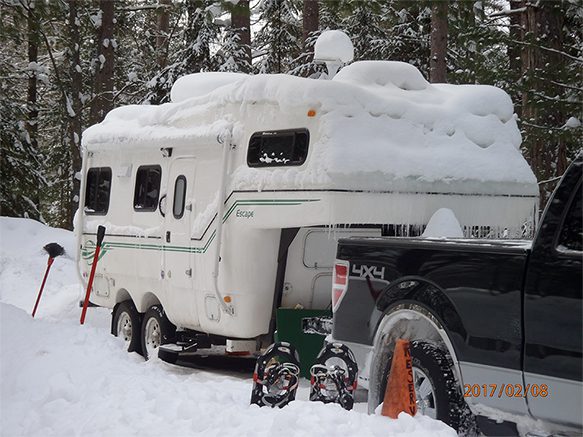 Winter tips for RV campers
Knowing how to prepare for each season of camping in your RV can take too much research and time. That's why a comprehensive list, chock-full of knowledgeable how-to's, will help guide you through a memorable trip in your trailer.
1. Ensure you pack enough insulated gear to keep you warm
This may seem like a no-brainer. But bringing enough hats, scarves, gloves, large jackets, sweaters, and long-sleeve shorts is a must. Pack gear-specific clothing for the activities you may be doing. If you're snowboarding or sledding, you'll want to invest in waterproof and insulated gear to help keep out the cold.
Ensure you have winter clothing you feel comfortable sleeping in. Thermal pajamas and extra-thick socks will go a long way in keeping you comfortable. You can also get thermal pillows if you notice your pillow is getting rigid in the evening air.
2. Stay put at one camp spot for a longer period
This tip is great for summer too. If you find a location with great activities, temperatures you enjoy, and a campsite you can linger at for 14 days, then consider staying longer.
In winter and summer, it's draining to prepare your RV campsite for inclement weather, then find a new campsite every few days. Make your trip more peaceful by staying kaput for longer amounts of time. You can learn where to find easy access to water, power, and black water draining systems too.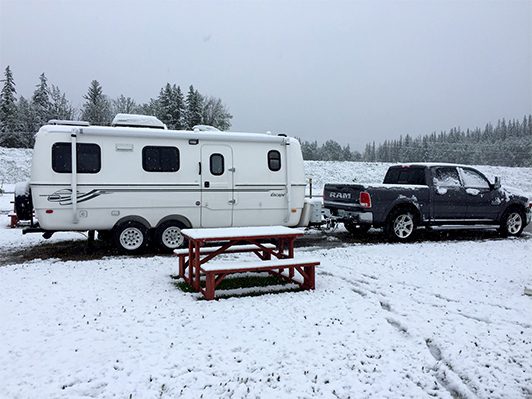 3. Use a space heater to warm up
Don't avoid getting a space heater and a carbon monoxide detector. Space heaters will keep you warm on extra-chilly days and will prevent your plumbing from freezing over. Be mindful not to use this appliance within 3-feet of anything flammable. 
Having a space heater will save you money. Most furnaces run on propane, which can cost you in time searching for propane, and monetarily. Don't forget to use an extension cord and 3-way, so you don't overload your panel.
4. Consider adding storage: coat hooks and area for boots
You'll be putting on boots and coats non-stop during your winter travels. It makes it more difficult to enjoy if your gear is cluttering a corner of your home, or if your storage is far away from the door. 
Add a space nearby to hook up coats, and put away boots, to keep your trailer or RV home feeling tidy, without the distress of snowy boots making a muddy mess. Cargo netting is indispensable for storing beanies and gloves by the door. 
5. Prepare for your space to feel smaller
In spring or fall, you can stay out all day on your makeshift front porch and enjoy the gentle breeze and peaceful weather that those seasons offer. It's easier to camp, hike, and stay outdoors, which is why campgrounds are packed to the gilet. 
In winter, you can enjoy less crowded locations and quieter evenings. But you'll also be spending more time indoors to take shelter from the wind and snow. 
If you're sharing the space with your partner or family, it will begin to feel cramped being indoors for longer. Make sure to pack for your indoor evenings too. String lights, board games, books, and podcasts are indispensable for evenings that are too cold to linger around the fire pit. You'll want your travel space to be as welcoming as a home would be.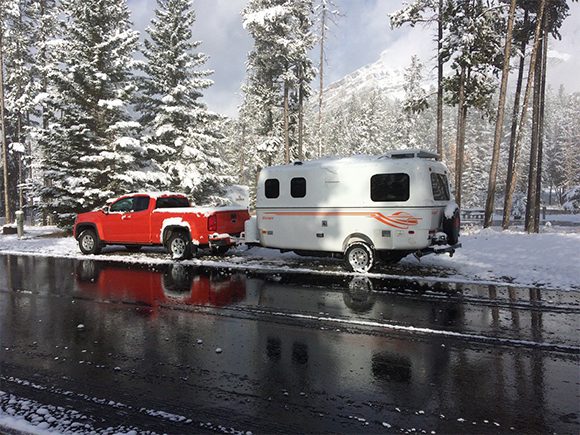 6. Winterize your RV
Maybe you didn't think you'd be interested in winter camping, but now you are and ready to get wild. Not all rigs are 4-season compatible. The Escape is a three-season travel trailer. However, it's pretty easy to winterize. For example, spray foam will become your new best friend when it comes to insulating your RV's underbelly for a warmer winter. 
Here's how to winterize your RV:
Insulate your dump valve: you don't want your black water tank to freeze at 20°F  or -7°C. If it does freeze, you may be able to use a hairdryer to defrost it. Consider using a PVC pipe in winter, and keep the valves closed until it's time to empty it, to avoid a messy situation.
Switch to your RV's furnace at 45°F or 7°C, as opposed to using your heat pump, to avoid burning it out.
Wrap all of your pipes in heat tape and add insulation where you can.
Put antifreeze in your blackwater and plumbing pipes, but never in your clean water pipes.
Consider installing thermal curtains and or insulated window inserts.
Keep a small tank of water indoors. Your large clean water tank in the bay is likely to freeze in winter, so you'll want to keep it empty.
Get a dehumidifier to prevent your space from getting wet and stuffy.
Use heat pads around your grey water tank and freshwater tank to keep them from freezing.
Store your RV carefully, when you're done camping for the winter season.
When you have a 3-season unit, you can winterize your vehicle with these tips. Escape travel trailers are made out of layered fiberglass to keep your travel home warm so that you can focus on exploring the outdoors, and not on how cold your toes feel.
7. Don't Forget the Fun
Winter camping can truly be a wondrous experience. Remember that the work is worth the memories, especially when you stay positive and create winter camping traditions. 
Create long-lasting and warm memories by:
Roasting marshmallows

Cooking over a campfire

Try out some

new healthy recipes

Practice your photography

Build a snowman

Make snow angels–No, you're never too old to play in the snow.

Go sledding

Try ice fishing

Build an igloo

Make homemade snow cones

Go ice skating
Prepare for a camping trip you'll never forget
There are spectacular sights you can visit along the way. In the U.S. and Canada, Whistler is a well-known mountain bike destination. But in winter it changes into a beautiful ski-resort and camping spot. 
Escape the everyday routine and get outdoors. Don't get overwhelmed and deny yourself the experience of camping in the snow because you don't feel prepared. Winter camping can offer solitude and unique outdoor excursions that can only be enjoyed in the cold.
To receive our newsletter by e-mail, please click the "Subscribe" button in the footer below.