How to Overland in an RV Safely
Is it the destination or the journey that makes a trip a success? If you are overlanding in your RV, both the destination and your journey are part of the fun and excitement. But when you're setting out to be self-reliant in remote lands, a small hiccup can turn into a huge setback. With a little planning before leaving into the great unknown, you can rest your problem-solving skills until less severe issues inevitably arise.
What Is Overlanding?
Overlanding is like backpacking the Appalachian Trail but with your vehicle and often without an established trail or path. In many ways, overlanding is a long-term, nomadic lifestyle as opposed to a short camping trip or vacation. Many overlanders depart for weeks, months, and even years.
On an overlanding expedition, you may find yourself cruising over rough terrain, off-grid to a remote destination. When you take an overlanding trip, you set sail across the land, taking in the scenery, uncertainty, and challenge in stride. 
 If you're considering cutting the anchor and seeing where your wheels will take you, you will want to take a practice run first after reading our tips.
Planning your Overlanding trip
A successful overlanding trip starts with good planning. With time, the planning process becomes easier and the initial trepidation of an overlanding trip will wear off. Until it becomes second-nature, follow these steps:
Step One: Make sure your vehicle is up for the trip
Not all vehicles are made to go off-roading. However, you can go overlanding and stay on roads that will take you to remote destinations. And even if yours is designed to go anywhere, you want to make sure your RV is built to take on the adventure.
Get an oil change and have your tires checked. 
Make any alterations to your vehicle you may need. You may want to consider adding a roof rack for your camping gear, a bike rack, and a cargo carrier for fuel.
Step Two: Decide On where you're going to travel
Continue your preparation by choosing an area you hope to cover and a timeframe of how long you want to be away. Then look into the regulations of the area to ensure you can go all-terrain legally. Some State Parks that allow off-roading still require a reservation or permit.
Step Three: Prep for the elements
Next, you will want to check the weather and plan accordingly, keeping in mind that weather predictions are not 100% accurate. As for a longer overlanding trip, you will want to plan for any weather that can occur in the region where you're going.
Clothing
Pack clothes that will keep you comfortable in bad weather. You will want to pack just a few outfits to keep the weight of your vehicle light. You can wear most shirts, shorts, and pants a few days each on the trip. But you will want to pack plenty of undergarments and socks.
Low temperatures
Choose heavier clothes for colder weather or traveling through higher elevations. Layering can also keep your heavier outer elements clean and fresh while thinner underlayers can be hand washed.
Heat
Pack lighter clothing for traveling through the Summer and warmer regions. You want fabrics that breathe and dry quickly since you likely will be sweating.
Rain
You can always hang out in your RV or vehicle during downpours. If the ground allows, you may even find yourself driving in the rain. But if you have to go out in the rain, you will want to wear rain gear to keep dry. Tall rubber boots can make a major difference if you have to hike in wet conditions
Other items you may want to pack include:
Bug spray

Sunblock

Sunglasses

Hat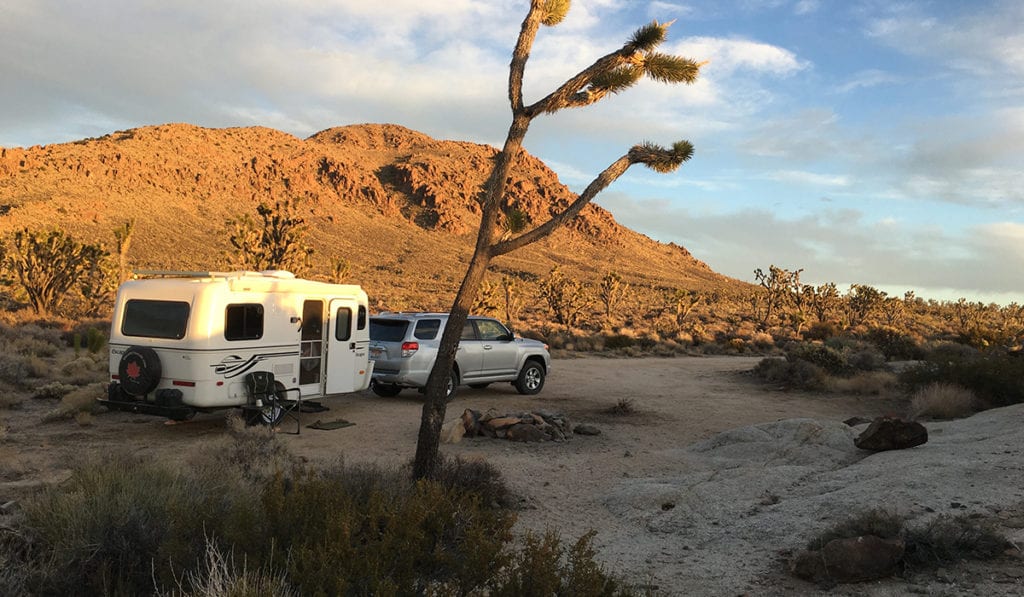 Step Four: Pack for self-reliance
On an overlanding trip, you will likely wind up in places without cell reception, without fresh water, without gas stations, and without most of the conveniences of modern life. Of course, this is part of the fun. But you still have to account for how you will respond under unknown circumstances. Using a personal locator beacon, which uses satellite technology can allow emergency personal to more easily locate you.
Pack extra batteries for your flashlights and account for any other equipment you want to bring. For example, check that your propane tank is full if you're planning to use it to cook. You may want to bring extra firewood in case you arrive at an area post-rain. 
Consider going solar. Setting your RV or vehicle up with a few solar panels can extend your journey and add a new level of self-reliance to your journey. You can use solar power to enjoy a hot shower, use your RV's lights, and charge your devices. Be sure to power up batteries to have some electricity stored for rainy days.
But make sure that you have packed a spare set of keys, just in case you lose yours. Keep them hidden but somewhere you can access outside of your vehicle.
While not necessary, there are a few things that you can pack that just might come in handy. 

Overlanding driving tips
Drive slower than you would in your car on a regular road. RVs and trailers are easier to control when towing them slowly, especially if you hit bumpy terrain.
Be aware of your surroundings. If you're unsure if the terrain is safe to cross, turn around.
Pay close attention to the conditions. Wet and bumpy roads, along with dirt roads and trails will increase the distance it will take you to stop.
Everything is more difficult at night, so stay awake and stay aware of the road you are driving.
Always lock your vehicle. Even in remote areas, you will encounter other people. And in the situation of overlanding, you're better safe than sorry.
Overlanding safely makes Overlanding more enjoyable
It is better to plan ahead and prepare than to wish that you had. It doesn't take much time, effort, or money to prepare for your overlanding trip correctly. So take some time before you pull out of your driveway and prepare for what you can. Then hit the open road, creating lasting memories as you go. 
Check out our lightweight fiberglass travel trailer, the Escape 5.0, that is easy to tow on overlanding adventures.
To receive our newsletter by e-mail, please click the "Subscribe" button in the footer below.