What to Look for When Looking for a Campground
When it comes to the quality of your stay, no matter how nice your RV is If you have a sub-par campground, your trip will not be as enjoyable. The internet makes finding the right campsite much easier while providing you with more confidence as you plan your trip. If you are new to the RV lifestyle, you will quickly learn that a little preparation can make a huge difference in how relaxing, exciting, or fruitful your adventure will be.
Want to skip the troubleshooting? We've got you covered. Don't waste one day at a bad campsite with these tips.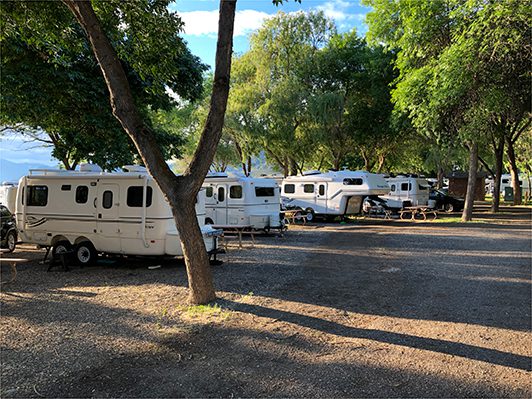 Most important qualities when choosing a campground
1. Set your itinerary 
One of the most important ways to avoid a nightmare of a campground or campsite is to not leave where you stay to chance. In order to do this, sit down and list the places or destinations that you would like to visit. Note if a drive is too long to make in one day in order to find a place to stop between. 
After you have your list of places to stay over, list the amenities that you would like in order of importance. And don't forget to include the activities that you would like to do on your trip. 
2. Reviews
Once you have figured out where you want to go and what type of site you are looking for, search the web and/or social media for reviews of campgrounds in the area. A few bad reviews shouldn't put you off because no campground is perfect for everyone, but be wary of ones that have a lot of negative reviews, especially when it comes to the cleanliness of the campsites and the bathrooms and showers.
3. Make your activities a priority
When choosing a campground, find out what activities are available and which are worth your time. Are there hiking trails? Places to fish? Musical performances? Nature or historical lectures? Is there a play area for the kids? You will have plenty of time, so you need plenty of activities to keep yourself and the kids busy.
4. Consider the distance and availability of sites of interest
You won't want to spend all of your time at the campground, so what else is there to do in the area? Check to see if there are any historical sites. Museums are fun as well. Unique stores and places to eat can be fun to visit. Maybe try hiking at state or national parks. 
5. If your dog is joining, be sure the campground is dog friendly
If you are bringing a canine companion, you will need to know what the rules are. If necessary, keep them on a leash. If you are lucky, the campground will have a dog park and your forever friend can have fun and frolic off the leash in a confined area. 
You will also want to check to see if the hiking trail and national parks you plan to visit nearby are dog-friendly.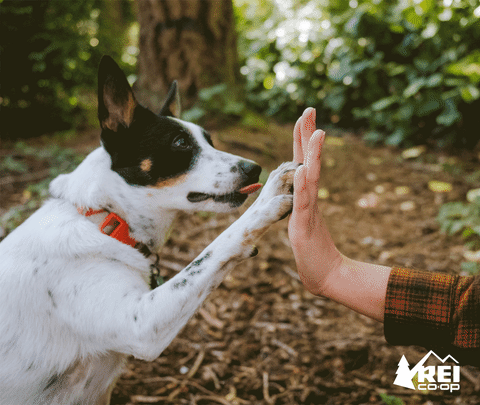 Other considerations to consider when looking for a campground
1. Reservations
While you don't always have to make reservations for every campground on your route, you may want to call before you set out to find out how full the facility gets. The best rule is to book your campsites as soon as you know when and where you will be. 
Most campgrounds will let you look at sites and dates on their website, then you can easily reserve it. And remember to print or save your reservation to help with checking in once you get there.
2. Refunds
There's no doubt that at some point on your journey you end up with a hiccup in your plans. You cannot always predict a breakdown or an illness, so you might have to change your plans at the last minute. Know what the rules are about the cancellation, so you won't have to pay for a campsite that you never get to use.
3. Consider the cost
The price of RV sites varies quite a bit, depending on where you are going when you are going, and what you will get in addition to a place to park your RV. Ultimately, you usually will get what you pay for. 
If you don't want many frills, it will be much cheaper. If you are going glamping, expect to pay more.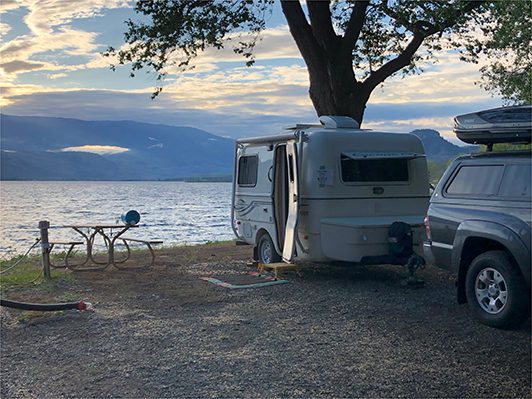 4. Decide if you would prefer a public or private site
Consider if you want a government-run campground or a privately-owned site. If you are wanting to get back to the basics and to be close to natural areas, you will probably want to look at county, state, and federal campgrounds. Public campsites are usually a little less expensive, and the extras that come with them are usually less private. However, this isn't always the case, so remember that reviews are a priceless resource.
Privately owned campgrounds usually have more of the little extras and are closer to civilization.
5. Decide on your length of stay
How long do you want to stay? Some places have a maximum length of stay. So if you plan on staying a month or more, make sure that the campground allows it.
6. Level of comfort
There are campgrounds for every level of comfort that you can imagine. Some come with just the basics like electricity, a picnic table, fire pit, communal bathroom, potable water, and dump station. 
Others have a few extras like a playground, TV hookup, and a clubhouse. The high-end sites can come with a variety of planned activities, snack bar, store, restaurant, swimming pool, and laundry. Look closely at the campground's website as you are choosing your campground and see what all comes with your site.
7. Decide how much space and privacy you want
It is said that Daniel Boone woke up one morning and saw smoke from a distant cabin, and said, "Time to move. Gettin' too crowded." Well, you will never get that much space at a campground unless you're going boondocking or primitive. So, note the size of the campsites when choosing a campground.
Most RVers prefer sites that have a little bit of space and maybe some trees or bushes between them and the other nearby campsites.
And don't forget to check to see if your RV will fit into the spot that you reserve.
8. Is the site back in or pull-through?
While not at the top of the list, you might want to look for a campsite where you can pull in and out and won't have to back your trailer into the spot. Backing in is not impossible but is never fun or easy, either. 
9. Do you need hook ups
Want to hook your RV up to water, sewer, and electricity? Make sure that the service you want will be available at the site. If you are using electricity, make sure that it will provide the proper amperage for your RV. 
10. Is Wifi a necessity?
While not a big deal in the past, wifi is almost a must for many RVers, now. Check-in advance if you will have access to wifi at your site. If not, will you be able to access it at a clubhouse or snack bar so you can work remotely, check emails, or download books to your e-library?
11. What is the quality of the bathrooms and showers?
While most RVs have bathrooms and showers, however, most tend to be very small, so you might be using the bathroom and showers provided by the campground. Note where the bathrooms are located. And the top of most RVers' list: is the bathroom kept clean?
12. Decide If you would like access to a camp store
It is nice to have a camp store on-site, or at least one within walking distance so that you can buy batteries to replace those that have run out of juice or pick up bug spray that you left at home. Firewood? Most places won't let you gather it, so it is nice to be able to buy enough for an evening fire. What kind of a trip would it be if you didn't have a fire to roast marshmallows for s'mores? 
13. Will you have a place to receive mail? 
If you will be gone for an extended period of time, you might need to have your household mail forwarded. Some campgrounds will collect and hold it for you, so check with them before your leave, and have the post office forward it to you if allowed.
14. Watch for smiles
A smile is worth its weight in hospitality and road trip joy. You and your family will be better off with a campground staffed with friendly workers. Genuine hospitality lets you feel like you are truly home away from home. 
Always check reviews from other RVers. If any mention unfriendly staff, steer clear.
There are unfriendly RV parks where the staff makes you feel as if you're imposing on them if you have a question or need some help or advice. Genuine smiles will keep you coming back in the future.
At first, you may not know exactly what you are looking for in a campground, but as you travel, you will gain wisdom and experience that will help. You will run into other RVers and you can ask for suggestions and share experiences with them. 
So, get ready for the trip of your lifetime. Take a moment to plan your route and your next trip will be unforgettable.
Not sure where you want to go? Check out these 15 must-visit road trip destinations.
To receive our newsletter by e-mail, please click the "Subscribe" button in the footer below.